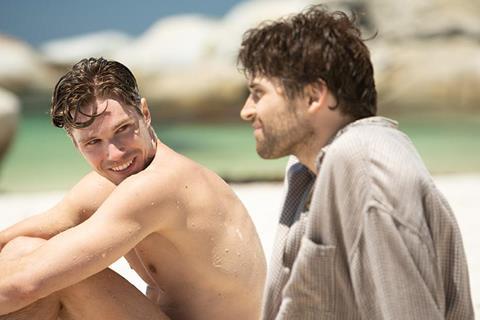 Oliver Hermanus' Moffie topped UK streaming platform Curzon Home Cinema's (CHC) most-watched films over the weekend, after sidestepping a theatrical release due to the ongoing Covid-19 lockdown.
The gay military drama, which had its world premiere in the Horizons section of Venice, was originally due to receive a UK day-and-date release on April 24. But the continued closure of cinemas meant the film launched exclusively on CHC and performed strongly as audiences continue to seek out home entertainment during quarantine.
From April 24-26, CHC reported a 12% revenue increase on the previous weekend and was up 297% on the equivalent weekend in 2019.
Set in 1981 South Africa, Moffie (an Afrikaans anti-gay slur) centres on a closeted teenager performing his compulsory military service on the border with Angola, who finds himself attracted to a fellow conscript.
It unseated Safy Nebbou's Who You Think I Am, starring Juliette Binoche, which held the top spot for two weeks after delivering CHC's best ever weekend and biggest three-day opening for a premium VoD title on April 10.
May 1 will see the early digital release of Harvey Weinstein-inspired drama The Assistant and documentary Diana Kennedy: Nothing Fancy, which won the special jury prize at SXSW 2019.
CHC's top 10 titles for April 24-26 were:
Moffie (2019)
Who You Think I Am (2019)
The Truth (2019)
Portrait Of A Lady On Fire (2019)
Knives Out (2019)
Military Wives (2019)
The Perfect Candidate (2019)
And Then We Danced (2019)
Martin Margiela: In His Own Words (2019)
Lucian Freud: A Self Portrait (2020)
MUBI, BFI Player top titles
UK-based MUBI, which operates as an international streaming platform and distributor, declined to share exact figures but revealed its highest performing titles for the previous week.
MUBI's top 10 for April 20-26 were:
Portrait Of A Lady On Fire (2019)
Chloe (2009)
Primer (2004)
Un Flic (1972)
The Go-Between (1971)
The Blood Of A Poet (1932)
Testament Of Orpheus (1960)
Night Moves (2013)
Coffee And Cigarettes (2003)
Grand Illusion (1937)
While the British Film Institute also did not reveal figures for its streaming platform, BFI Player, it did share the most-watched titles from April 20-26:
Subscription
Romance (1999)
Bait (2019)
Winter Sleep (2014)
Picnic At Hanging Rock (1975)
Paris, Texas (1984)
Breathless (À Bout De Soufflé) (1960)
Appropriate Behaviour (2015)
Belle De Jour (1967)
Le Mépris (1963)
Immoral Tales (1974)
Rentals
And Then We Danced (2019)
Knives Out (2019)
A Guide To Second Date Sex (2020)
La Belle Époque (2019)
Mr. Jones (2019)
Ordinary Love (2018)
Shoplifters (2018)
Harriet (2019)
In The Cut (2003)
Vivarium (2019)