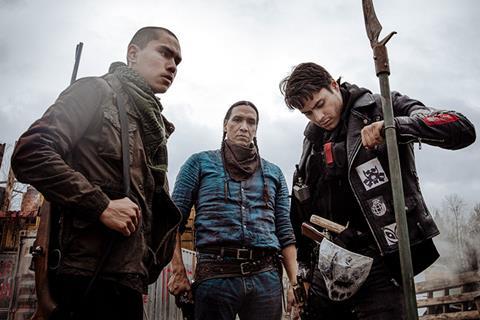 Jeff Barnaby's zombie horror Blood Quantum leads the Canadian Screen Awards nominations with 10 nods, the organisation announced on Tuesday (March 30)
The genre title from Prospector Films missed out on a best picture nomination but is in contention for lead actor with Michael Greyeyes, who starred in Sundance breakout Wild Indian, and garnered nods for best effects, best screenplay for Barnaby, and Michel St-Martin's cinematography, among others.
Deepa Mehta's Funny Boy earned nine nods including best film alongside Tracey Deer's Beans, Pascal Plante's Nadia, Butterfly, Sean Durkin's The Nest, and Sophie Dupuis' Underground.
Directing nominees are Mehta for Funny Boy, Plante for Nadia, Butterfly, Durkin for The Nest, Brandon Cronenberg for Possessor, and Dupuis for Underground.
Greyeyes is up against fellow acting nominees Saul Williams for Akilla's Escape, Alex Wolff for Castle In The Ground, Lance Henriksen for Falling, and Joakim Robillard for Underground.
Lead actress nominees are Michelle Pfeiffer for French Exit, Carrie Coon for The Nest, Carmen Moore for Rustic Oracle, Rosalie Pépin for Vacarme, and Madeleine Sims-Fewer for Violation.
Contenders in the Ted Rogers Best Feature Length Documentary category are: The Forbidden Reel, Stateless, Wandering: A Rohingya Story, A Woman, My Mother, and The World Is Bright.
Deer is in the running for Beans in the John Dunning Best First Feature Film Award alongside Evan Morgan for The Kid Detective, Grace Glowicki for Tito, Neegan Trudel for Vacarme, and Madeleine Sims-Fewer and Dusty Mancinelli for Violation.
The sixth and final season of Pop TV's Schitt's Creek leads both the television and overall Canadian Screen Award nominations with 21 nods.
The ninth annual Canadian Screen Awards will stream live on May 20, 2021.