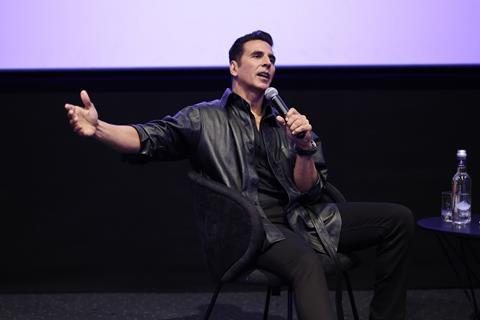 Leading Bollywood actor Akshay Kumar has revealed he is making a film based around sex education, which is being lined up for release in spring 2023.
The Indian star told an audience at the Red Sea International Film Festival (RSIFF) in Jeddah: "I'm making a film on sex education. It's a very important subject. In a lot of places, it is not there. We have all kinds of subjects we learn in school but sex education is one I'd like all the schools in the world to have because it is important."
No details were shared of the title or director but Kumar did add: "It's going to take time to release. April or May I will be releasing that film. It's one of the best films I have made."
Kumar is one of India's most bankable actors, starring in a string of commercially successful, action hits. But he has also made social dramas such as 2017's Toilet: Ek Prem Katha, which explored sanitation conditions in India, and 2018's Pad Man, based on the true story of a man who made low cost sanitary pads for women in rural areas.
"I like doing these kinds of films, social films," he said. "These kinds of films are not that big a commercial success but surely give me satisfaction."
The Bollywood star was speaking at a sold-out in-conversation event at RSIFF in Jeddah and the audience comprised fans who screamed "Akshay" on his arrival and rushed the stage at the end of the event, as moderator and Red Sea director of international programming Kaleem Aftab called in vain for calm.
Criticisms
However, not all members of the audience shared the same hysteria for the star. Five people walked out when Kumar praised India's prime minister Narendra Modi. Setting up a clip from Toilet, the actor and producer said: "That's another thing in India we have, which has drastically now changed, thanks to my Prime Minister Narendra Modi. He is the first prime minister who spoke about Swachh Bharat [a country-wide campaign initiated by the Indian government in 2014 to eliminate open defecation]."
Kumar has become known in recent years for his growing proximity with Modi and his Bharatiya Janata Party (BJP) government.
A lively Q&A audience session of mainly overcome fans also included a question from one man who said: "I'm from Pakistan, your neighbour country. I have a request. You do fantastic movies like Pad Man and Toilet, bringing knowledge to the people, solving daily routine issues. There is an issue between India and Pakistan as well… Your recent movie Bell Bottom has certain things against Pakistan."
The actor cut off the rest of the question and responded: "Sir, it's just a movie. Don't get so serious about it. It's just a movie. There are many things like that. It's just a movie, sir."
Bell Bottom is a Hindi-language thriller inspired by a series of Indian Airlines hijackings in the 1980s and stars Kumar as an Indian secret agent. However, it faced criticism for including what some considered to be anti-Pakistan rhetoric and was banned in Saudi Arabia, Kuwait and Qatar for historical inaccuracies.
RSIFF continues until December 10 and further Indian stars in the line-up include Shah Rukh Khan, who received an honorary award at the festival's opening ceremony on December 1.