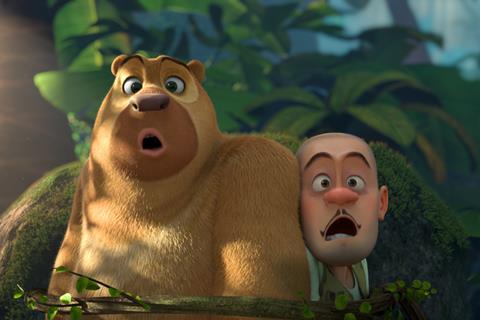 China's Fantawild Animation has sold Boonie Bears: Blast Into The Past to more than 15 territories, including Canada (Cinémas Guzzo) and Spain (Media Solutions Partners).
The sixth installment in the blockbuster franchise, which grossed $106m over Chinese New Year in February, has also gone to Russia (Treblo Media), Turkey (Bir Films), Middle East (Gulf Films), Cambodia (Westec Media), Korea (Entermode Corp) and Vietnam (Mockingbird). All these territories are planning to give the film a theatrical release.
In addition, Sony has acquired all rights except theatrical for Latin America until 2020, while Panorama has picked up Hong Kong DVD rights.
Singapore's Snap Entertainment has already released the film theatrically. Cinémas Guzzo is releasing the film in Canadian theatres in September, following its success with the fifth installment in the franchise, Boonie Bears: The Big Shrink, which was released in March and achieved a per screen average of more than $6,000.
Boonie Bears was originally a popular TV series, which Shenzhen-based Fantawild Animation exported to more than 80 territories. The company then expanded it into a theatrical film franchise starting with Boonie Bears To The Rescue in 2014.
"People always thought that Chinese animation is still immature but we're here to change that mindset," said Daisy Shang, executive president of Fantawild Group and president of Fantawild Animation. "The success of Boonie Bears in more than 80 countries, including developed countries like Canada, is self-explanatory."