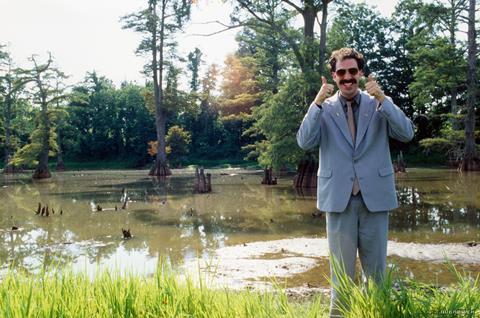 Amazon has snapped up worldwide rights to Sacha Baron Cohen's Borat sequel and will debut the film ahead of the US presidential election on November 3.
The British comic returns to his alter ego as the roving Kazakh TV personality, and secretly filmed the mockumentary in recent months in the US and other countries.
It is understood Baron Cohen and his crew waited until Covid-19 restrictions lifted before commencing the clandestine shoot as quickly as possible.
The film is likely to become a major talking point, given Baron Cohen's ability to satirise intolerance and gain access to right-leaning elements of US government and society at a time when the country remains deeply polarised.
Amazon Studios had not commented at time of writing, however the film could figure prominently in awards season were there to be a campaign. In 2007 the original Borat earned a best adapted screenplay Oscar nomination and won a Golden Globe for best comedy or musical actor.
Borat: Cultural Learnings Of America For Make Benefit Glorious Nation Of Kazakhstan opened via Fox in 2006 and became a cultural and commercial sensation, grossing $262.6m worldwide in a roughly even split between North America ($128.5m) and international ($134m).
Baron Cohen currently stars in awards contender The Trial Of The Chicago 7 for Netflix. Prior film credits include Brüno, The Dictator, Hugo, and Les Misérables.
He recently appeared in TV mini-series The Spy on Netflix, and Showtime series Who Is America aired earlier this summer.
Baron Cohen sprung to fame after regular appearances as the fictitious youth culture presenter Ali G on UK TV show The 11 O' Clock Show before the character got his own TV headliner, Da Ali G Show.