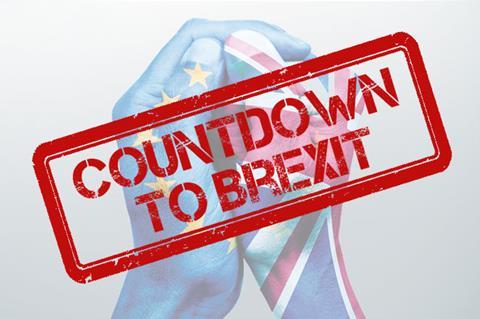 Most UK film distributors admit they simply do not know what Brexit will mean for their businesses in both the short and the long term.
Even before March 29, 2019, the date on which the UK is due to leave the European Union, with or without a deal, these distributors had already experienced considerable upheaval. They talk darkly of the precipitous fall of the pound following the Brexit referendum vote in the summer of 2016 and how that immediately weakened their purchasing power at film markets. When they ran the numbers, they realised their minimum guarantees (the fee, generally set in dollars, the distributor agrees to pay a producer for the right to distribute the completed film) had shot up.
If there is a "hard" Brexit, it is envisaged the pound will fall further. Robert Beeson, founder and managing director of arthouse outfit New Wave, predicts it could soon be worth less than a Euro.
"The pound dropping has been a pain but that has been for the last two years and so we have learned to live with it," Beeson says.
When it comes to the acquisitions of smaller foreign-language arthouse film, the weakening of the pound hasn't had a huge impact. This is a niche part of the UK market anyway and distributors have simply revised their offers downward. "Unless it is a film that everyone is madly after, the sales agents have had to like it or lump it," says Beeson.
The weakening pound is causing more anguish for distributors releasing mainstream English-language fare. In 2018, UK cinema generated 5% of global box office from just 1% of the world's population. That figure, though, is likely to fall.
"Most companies are part of larger media groups, either based in America or Europe," notes Mark Batey, the outgoing managing director of the Film Distributors Association (FDA). "Then, you are absolutely reporting back in dollars or Euros. If sterling falls – from a distribution point of view, actually it is a disaster. It means the rentals you are achieving in the UK are worth that much less in terms of the global picture of what a film is doing. It does diminish the performance of the UK as a marketplace."
"As a UK distributor, our activities are primarily denominated in sterling, but we are in a global industry that operates mainly in US dollars," says Rupert Preston, managing director of Vertigo Releasing. "The current weakness of the pound makes it more expensive to acquire films for exploitation, but the value of any downstream sales that are US dollar-based can work the other way. On a film-by-film basis and certainly since the referendum, we assess the currency risk that we're exposed to and decide to hedge accordingly using a number of options, which includes the use of forward contracts."
In the event of a hard Brexit, the UK would come straight out of the EU's Creative Europe – and UK distributors would no longer be eligible for distribution support through the programme. Harriet Finney, director of external affairs at the British Film Institute (BFI), says the government is stepping in to compensate for any potential loss in the short term.
"The Chancellor has guaranteed that HM Treasury will replace funding for those organisations/projects who had been selected for funding by the EU up to March 2019 when the UK leaves the EU," she explains.
Uncertainty remains about projects which may be in the process of applying to Creative Europe but haven't yet been selected.
Meanwhile, without access to the Creative Europe funding, the UK is bound to suffer in the longer term.
"We have our pipeline for 2019. It's the years thereafter, the content and films we are looking to do in 2020 and beyond, which is the piece which is unknown right now," says Philip Mordecai, director of digital ventures at distributor-exhibitor Curzon, of the uncertainty which will mount if the UK is outside Creative Europe.
The funding gap that would open up without EU funding would be significant.
"Creative Europe contributed over €13m in 2017 across development, production, distribution [both European films in the UK and UK films in Europe], training, festivals, industry events, VOD platforms and film education," says the BFI's Finney. "We also estimate that access to Creative Europe strengthens the independent film sector economically by focusing on international markets which fuel around 40% of UK film exports to Europe and the majority of these are supported by Creative Europe."
In the event of a hard Brexit, the UK won't just leave the current programme (which ends in 2020) early. It is unlikely to be able to join the next one. In that case, the UK industry might look for new national financing similar to that available in Switzerland to make up for the funding gap. The BFI would be the body expected to administer such a fund. But some distributors worry about what extra strings may then be attached to the support.
"The BFI has been extremely quiet about it," says one sceptical independent UK distributor who asked to remain anonymous. "The trouble is that they're the only organisation vaguely qualified to administer [a new fund] but then they're going to stick all their mad things on it. Filling out their forms, I always get stuck. You have to pretend to be a cross between Jesus and Malcolm X."
The Ireland (and Malta) question
One anomaly about UK distribution rights is the territory is defined as including the Republic of Ireland and the Republic of Malta, both independent members of the EU. The FDA's Batey describes this as an "interesting wrinkle given what is going on" but doesn't envisage releasing practices will change. However, in the event of a 'no deal' Brexit, a release in Ireland (of a non-national film) will be eligible for EU support via Creative Europe but not the UK release. But UK-based distributors will not be able to apply for this and establishing an Irish presence in order to do so would be an extra "operational cost", as Curzon's Mordecai points out.
Another potential issue for UK distributors is that DVD manufacturing for UK companies now tends to happen primarily in mainland Europe. Many UK companies do their manufacturing at Technicolor in Poland. The DVDs are shipped back to the UK on lorries, taken to warehouses and, from there, transported to retailers.
"If you look at the potential problems with lorries in those first few weeks if there is no deal, what will be prioritised are refrigerated lorries. Any hard goods, non-perishable, non-urgent, which I am afraid people will view DVDs as, go to the back of the queue," one UK distributor points out.
He raises the possibility that thousands of DVDs and Blu-Ray discs intended for UK customers might end up stuck somewhere in transit on the other side of the English Channel.
This may be just a short-term logistical problem but in the longer term, distributors worry new import tariffs may be put in place which will push up the costs of importing DVDs. Terms of trade and prices may change and this could threaten distributors' profit margins.
Will some companies move to Europe?
2018 was a very good year for cinemagoing in the UK. In spite of the competition from the streaming platforms, 177 million cinema tickets were sold, the highest number for almost half a century. Some analysts attributed the robust figures to the UK public's utter exasperation with anything to do with Brexit. Watching a movie is more fun than listening to politicians talking interminably about Irish backstops or hearing supermarket chiefs predict food shortages.
The releases planned for March 29 include Curzon's At Eternity's Gate, Julian Schnabel's biopic about tortured Dutch artist Vincent van Gogh, Arrow's drama Lord Of Chaos by Swedish director Jonas Akerlund, and Tim Burton's Dumbo for Disney. (Insert all Brexit Day puns here.)
Rumours persist that various UK film companies may now look to set up offices in mainland Europe. In late January, Brussels Capital Region put out a press release announcing Brussels wanted to offer "a secure alternative to London for UK creative industries post-Brexit". Backed by the Brussels' regional government, regional trade associations and industry bodies, the initiative aims "to bring UK-based businesses to the Brussels Capital Region and help them secure the future of their European operations".
Some UK distributors have mainland European or North American parent companies. However, there isn't much evidence yet that the UK outfits are looking to head abroad. Sony may be moving its main European headquarters from the UK's home counties to Amsterdam but senior staff have confirmed Sony Pictures Entertainment is staying put in London and doesn't expect any major change in its day-to-day business.
Impact on admissions
Post-Brexit, there is the likelihood that the choice of films on release theatrically to UK audiences will reduce further. Foreign-language films have only limited traction in the marketplace anyway. Without Creative Europe support, their grip will loosen further.
Will Brexit boost the opportunity for independent UK films to secure more screens and boost their national market share while also selling for more money abroad? There is little evidence this will happen either. "If you are producing a wholly British-shot and British-produced project with British talent, and you happen to sell it in US dollars, I suppose there could be a perceived benefit, but if you think Netflix aren't looking at the currency and adjusting their price accordingly, you are in cloud cuckoo land," is how one distributor robustly scotches any suggestion UK films are about to enjoy an export boom.
The one cause for short-term optimism is that the Virtual Print Fee (VPF), the controversial levy paid by distributors toward the digitisation of cinemas, is due shortly to disappear and so it will be less expensive for distributors to release their films.
"We will just have to see" is a familiar refrain from UK distributors asked about how Brexit will affect them but their mounting wariness is apparent. Few can see any obvious upside.