SEPTEMBER 19 UPDATE: A Chinese Odyssey: Part Three leads the way with $35.8m from its two territories; The Age Of Shadows adds $21.4m in South Korea for $45.2m to date.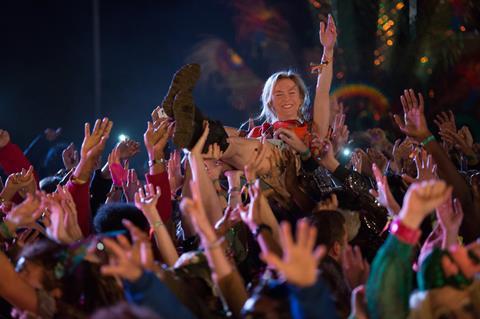 UNIVERSAL PICTURES INTERNATIONAL
UPDATE: Bridget Jones's Baby arrived on the international stage with a $29m bow from its 39 territories, including number one bows in 22 of them.
The Working Title production, presented by Universal, Miramax and Studiocanal, enjoyed a record-breaking $10.4m debut in the UK, marking the biggest opening weekend for a romantic comedy (excluding previews) and the biggest ever September opening.
Other highlights include a chart-topping $4.3m in Australia from 292 sites, a number one bow in the Netherlands with $1.9m from 134 and a $1.6m debut in Spain from 328 to lead the market.
There are 21 territories to open over the next two months, starting with Egypt, Iceland, Italy, New Zealand, Switzerland, Thailand and Trinidad next weekend.
Illumination Entertainment and Universal Pictures' The Secret Life Of Pets has crossed $800m at the global box office.
Overseas, the animation hopped to an extra $11.6m from its 62 territories for $443.7m, opening in New Zealand with a chart-topping $766k. It added $2.6m in Australia for an 11-day tally of $9m and remained top in Brazil with $1.4m for $15.9m.
Boosted by an excellent $2.2m number one debut in Germany, The Purge: Election Year took $2.7m from its 11 territories for $34.3m. Blumhouse and Platinum Dunes' threequel opens in Hong Kong on Sept 29 and Brazil on Oct 6.
Jason Bourne and Kubo And The Two Strings stand at $235.4m and $10.4m, respectively. Laika's latest opens in France and French-Switzerland next weekend.
CHINESE TITLES
A Chinese Odyssey: Part Three was the big winner of the Mid-Autumn Festival long weekend as it grossed an estimated $35.8m from its two territories across its opening five days, according to ComScore.
David Lam's action thriller sequel S Storm shot to $17.5m from its six territories, while Cock And Bull took $11.2m from its three territories.
Romantic drama Soulmate posted a $10.3m debut in China.
SOUTH KOREA
UPDATE: Boosting 54% on its second weekend, The Age Of Shadows dominated the box office in South Korea with $21.4m for a striking $45.2m to date.
The film is Warner Bros Korea's first Korean-language production, in association with Harbin Films, and was chosen as South Korea's Oscar submission.
Meanwhile, CJ Entertainment's period drama The Map Against The World recorded an estimated $5.4m debut, according to ComScore.
PARAMOUNT PICTURES INTERNATIONAL
Ben-Hur raced to an estimated $11.3m from its 47 markets for $54.9m overseas, with the majority of the weekend's take coming from a superb $7m bow in South Korea.
Holdover-wise, Paramount-MGM's remake took $907k for $2.4m after two weeks in France, while Russia added $696k for $3.7m and the UK took $556k for $2.5m. It arrives in Italy on Sept 29.
Aided by a $4.8m third weekend in China, Star Trek Beyond phased to $7m from its 30 markets for $175.6m. The sci-fi sequel has now amassed $63.3m in China, and added $718k in Mexico for $2.6m after two weeks in play.
WALT DISNEY STUDIOS MOTION PICTURES INTERNATIONAL
Recording the biggest animated opening of the year in Italy, Finding Dory swum to $8.3m from its 14 territories for $477.1m. Its Italian bow of $5.8m saw it chart top with a 47% market share.
Pete's Dragon flew to an extra $5.2m from its 31 territories for $40.2m to date overseas. The remake opened well in Mexico with $2.1m to chart second behind a local film, and posted a $700k bow in Australia.
SONY PICTURES RELEASING INTERNATIONAL
Landing in three new markets, Don't Breathe pulled in a further $7.2m from its 33 markets for $31.7m.
Its best debut came in Mexico with $1.2m from 945 screens, while it fell only 2% in Germany on its way to a $1.1m second weekend for $2.6m. In the UK, the horror added $720k for $2.9m after ten days in play.
Sausage Party grossed $2.1m from its 27 markets for $24.2m overseas, including a $751k third weekend in the UK for a local tally of $8.6m. Its next major openings come in Brazil and Germany on Oct 6.
The Shallows has now bit into $61m internationally.
WARNER BROS PICTURES INTERNATIONAL
UPDATE: In its second weekend of release, Sully grossed $7.9m from its 44 territories for an early $24.3m.
Hong Kong opened to a strong $776k from its 50 screens, while it fell only 20% in Australia with a $1.6m second weekend for $4.9m.
Worldwide, Sully took $3.1m from 529 IMAX locations for $10m. It opens in Japan next weekend.
Suicide Squad has crossed the $400m mark at the international box office following a $6.4m weekend from its 62 territories for $406m to date. The DC Entertainment adaptation enjoyed a $2.3m second weekend in Japan for $9.5m so far.
Travelling into France ($1.4m) and Italy ($999k), War Dogs added $3.8m from its 48 territories for $31.2m to date. It opens in Germany on Sept 29.
Me Before You posted a $965k third weekend in Italy for a local tally of $7.1m and an overall overseas haul of $149.2m.
LIONSGATE INTERNATIONAL
Blair Witch scared up an estimated $4.9m from its 27 markets on its international bow.
The surprise sequel creeped to a preview-boosted $1.5m debut in the UK and $1.2m in Brazil, both seeing it chart second. It opens in France, Italy and Belgium on Thursday [Sept 21].
FOX INTERNATIONAL
UPDATE: With no new openings, Ice Age: Collision Course rolled to $3.1m from its 36 markets for $340m. China posted a $1.5m fourth weekend for $66.7m to date.
Mike And Dave Need Wedding Dates found another $1.2m from its 20 markets for $29.9m, falling only 14% in Germany with a $447k third weekend and a local tally of $2.9m. Italy and Spain open in October.
Independence Day: Resurgence and Morgan stand at $284.5m and $3.4m, respectively. The latter opens next weekend in Belgium, followed by France on Sept 28.
STX ENTERTAINMENT
Opening in one new market (Indonesia), Bad Moms partied to an estimated $1.7m from its 54 markets for $47.9m. In the UK, it dropped 41% with a $700k fourth weekend for $9.1m to date. It opens in Germany next weekend.