Universal's threequel scores biggest ever September opening with $10.6m (£8.11m) opening from its 641 sites.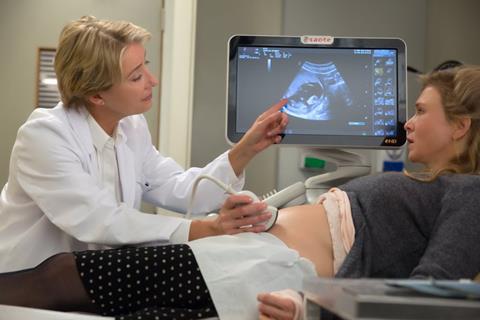 UK TOP FIVE
| Ranking | Film/Distributor | Weekend gross | Running total |
| --- | --- | --- | --- |
| 1 | Bridget Jones's Baby (Universal) | $10.6m (£8.11m) | $10.6m (£8.11m) |
| 2 | Blair Witch (Lionsgate) | $1.24m (£951,808) | $1.24m (£951,808) |
| 3 | The Beatles: Eight Days A Week (Studiocanal) | $852,000 (£653,557) | $852,000 (£653,557) |
| 4 | Sausage Party (Sony) | $803,000 (£614,000) | $8.6m (£6.6m) |
| 5 | Kubo And The Two Strings (Universal) | $775,000 (£594,563) | $2.2m (£1.7m) |
(Note - Dollar conversions are based on today's rates)
UNIVERSAL
Bridget Jones's Baby arrived with a bang at the UK box office as it enjoyed a record-breaking bow.
Universal's threequel scored a terrific $10.6m (£8.11m) opening from its 641 sites, marking the biggest September opening ever. That's £3m ahead of previous record holder, Legend with its $6.8m (£5.19m) debut from 522 sites.
While it might be behind Bridget Jones: The Edge Of Reason's $13.6m (£10.44m) bow from 504 sites back in 2004, that included $4.3m (£3.31m) in previews so Baby's Fri-Sun tally is ahead of The Edge Of Reason's $9.3m (£7.13m).
Given its strong reviews and word-of-mouth, Bridget Jones's Baby should enjoy a lengthy run in the UK. Whether it can top Bridget Jones's Diary's $54.7m (£42m) haul will become clearer after its first week and holdover.
Also for Universal, Kubo And The Two Strings fell 30% with a $775,000 (£594,563) second weekend for $2.2m (£1.7m) after ten days in play.
Jason Bourne and The Secret Life Of Pets stand at $29.9m (£22.94m) and $45.6m (£34.95m), respectively.
LIONSGATE
Surprise sequel Blair Witch didn't fare much better on this side of the Atlantic after its disappointing North American opening.
Lionsgate's horror scared up $1.24m (£951,808), including $210,000 (£160,324) in previews, from its 462 sites to chart second. The release is the widest for a horror film outside of The Conjuring 2.
That's behind Book Of Shadows: Blair Witch 2's $1.4m (£1.09m) bow from 346 sites. The Blair Witch Project grossed $977,000 (£750,822) from only 36 sites in 1999, with its first weekend of wide release seeing it take $7.6m (£5.88m) from 397 sites.
Also for Lionsgate, Brotherhood posted a $244,000 (£186,881) third weekend for $4.37m (£3.34m) to date, only £6k away from overtaking Adulthood's final UK haul of $4.38m (£3.35m).
ADMISSIONS UPDATE
CAA has reported that August saw 18.1m admissions at the UK box office, up 26% on August 2015 and marking the busiest August since 2011.
To date in 2016, admissions stand at 113.8m and are currently 0.4% up on 2015. Spectre and Star Wars: The Force Awakens were still to come last year.
STUDIOCANAL
The Beatles: Eight Days A Week - The Touring Years pulled in a big crowd on its UK debut.
Studiocanal's documentary scored a strong $852,000 (£653,557) debut, with the majority coming from a $779,000 (£596,957) take from its Thursday live stream event at 499 sites.
The opening includes a non-final $74,000 (£56,600) gross across Fri-Sun from 107 sites, with 26 still to report.
Also for Studiocanal, Hell Or High Water fell around 50% on its way to a $334,000 (£255,847) second weekend for $1.51m (£1.15m) to date.
Swallows And Amazons has sailed to $3.76m (£2.88m) after five weeks in play.
SONY
Sausage Party's two-week reign as the UK's number one ended as it fell almost 50% on its way to a $803,000 (£614,000) third weekend.
Sony's adult animation is now up to $8.6m (£6.6m) and has now overtaken the final results of Bad Neighbours 2 and Superbad.
Also for Sony, Don't Breathe dropped 44% as it creeped to a $749,000 (£573,000) second weekend for $3m (£2.3m) to date.
ENTERTAINMENT
Bad Moms fell 44% on its way to a $652,000 (£500,168) fourth weekend.
Entertainment's raunchy comedy is now up to a decent $9m (£6.87m) in the UK after a well-sustained run.
DISNEY
In its eighth weekend, Disney's Finding Dory fell a respectable 34% on its way to $628,000 (£480,000) for a terrific $53.2m (£40.7m) to date.
Also for Disney, Pete's Dragon flew to a extra $161,000 (£123,000) for $6.1m (£4.7m) after six weeks in play.
WARNER BROS
The Infiltrator struggled to make an impact on its UK bow with a $476,000 (£364,000) debut from its 264 sites through Warner Bros.
That marks director Brad Furman's lowest UK bow, behind the $748,000 (£571,836) opening of The Lincoln Lawyer from 378 sites. Bridget Jones's Baby will also likely harm its chances of getting healthy midweek returns.
Also for Warner Bros, Suicide Squad added $129,000 (£99,000) for a decent $43.7m (£33.4m) to date, while Café Society posted a $111,000 (£85,000) third weekend for $1.7m (£1.27m) so far.
War Dogs stands at $4.4m (£3.4m) after four weeks in play.
PARAMOUNT
Falling more than 60%, Paramount's Ben-Hur journeyed to a non-final $403,000 (£308,000) second weekend for a soft $2.3m (£1.79m) after 12 days in play.
EONE
Now in its ninth weekend, eOne's The BFG marched to a further $323,000 (£246,957) for a excellent $38.6m (£29.51m) to date, edging towards a still-possible £30m result.
Also for eOne, Captain Fantastic fell around 50% (excluding previews) with a $145,000 (£111,150) second weekend from its 105 sites for $687,000 (£525,827) so far.
WILDCARD DISTRIBUTION
The Young Offenders recorded the biggest opening for an Irish film this year in the Republic of Ireland.
Wildcard Distribution's comedy from first-time feature director Peter Foott enjoyed a non-final $224,000 (£171,548) debut, including previews, from its 65 sites, surpassing the Irish bows of Sing Street and Room.
VERTIGO RELEASING
Hunt For The Wilderpeople enjoyed a superb start to its UK run through Vertigo Releasing.
The New Zealand box office smash captured $219,000 (£167,889), including $19,000 (£14,810) in previews, from its 63 sites, marking a healthy overall site average of $3,476 (£2,665). Its Fri-Sun average of $3,169 (£2,430) is the second highest of the weekend.
It means that the film achieved director Taika Waititi's best-ever UK bow, topping the $167,000 (£127,765) debut of What We Do In The Shadows from 33 sites.
ICON FILM DISTRIBUTION
Falling 55% in its second weekend, Icon Film Distribution's Anthropoid took $134,000 (£102,724) for $632,000 (£484,299) to date.
CURZON ARTIFICIAL EYE
From its 14 sites through Curzon Artificial Eye, The Clan posted a strong $56,000 (£42,976) UK bow, including previews, recording a $4,014 (£3,070) site average.
UPCOMING RELEASES
This week sees saturation releases for Sony's The Magnificent Seven and Warner Bros' The Girl With All The Gifts.
Altitude's Little Men, Soda Pictures' The Lovers And The Despot and Studiocanal's De Palma are among the films receiving a limited release.