Sony's The Magnificent Seven rides to $2.7m (£2.1m) debut from 543 sites.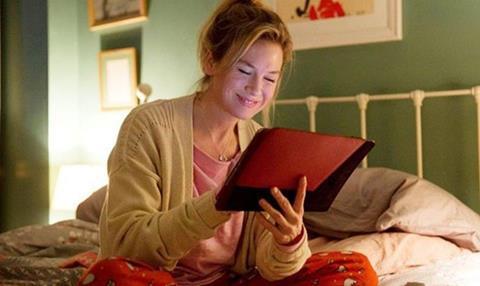 UK TOP FIVE
| Ranking | Film/Distributor | Weekend gross | Running total |
| --- | --- | --- | --- |
| 1 | Bridget Jones's Baby (Universal) | $8.4m (£6.45m) | $27.6m (£21.22m) |
| 2 | The Magnificent Seven (Sony) | $2.7m (£2.1m) | $2.7m (£2.1m) |
| 3 | Kubo And The Two Strings (Universal) | $658,000 (£506,120) | $3.03m (£2.33m) |
| 4 | Finding Dory (Disney) | $569,000 (£440,000) | $53.4m (£41.3m) |
| 5 | The Girl With All The Gifts (WB) | $559,000 (£432,000) | $559,000 (£432,000) |
(Note - Dollar conversions are based on today's rates)
UNIVERSAL
Bridget Jones's Baby comfortably held onto the number one spot at the UK box office with an excellent second weekend.
Universal's threequel dropped only 20% from its record-breaking opening with an outstanding $8.4m (£6.45m) for $27.6m (£21.22m) after ten days in play. It enjoyed a prosperous first Mon-Thurs as it took $8.7m (£6.7m) to dominate the market.
Despite opening behind Bridget Jones: The Edge Of Reason, Baby has now overtaken the sequel, which stood at $26.7m (£20.69m) at the same stage and had previews included.
You wouldn't bet against it being at £25m before this coming weekend and going on to record a third straight week as the UK's number one. Bridget Jones's Diary's $54.3m (£42m) result could well be an achievable target.
Also for Universal, Kubo And The Two Strings fell by a slim 19% on its way to a $658,000 (£506,120) third weekend for $3.03m (£2.33m) to date. It will end its run as the lowest-grossing Laika outing to date.
SONY
The Magnificent Seven is off to a decent start at the UK box office despite the domination of Bridget.
Sony's remake rode to a $2.7m (£2.1m) debut from its 543 sites, marking star Denzel Washington's third-best UK opening. For director Antoine Fuqua, the film achieved his best-ever Fri-Sun result ahead of The Equalizer's $2.5m (£1.89m) from 444 sites.
Southpaw is currently Fuqua's best-ever UK result with $11.2m (£8.7m) and The Magnificent Seven is in a strong position to challenge that.
Also for Sony, Don't Breathe fell a respectable 36% with a $476,000 (£368,000) third weekend for $3.9m (£3m) to date, while Sausage Party has now amassed $9.4m (£7.3m) following a $442,000 (£342,000) fourth weekend.
DISNEY
Falling only 9% in its ninth weekend, Disney's Finding Dory swum to an extra $569,000 (£440,000) for a mighty $53.4m (£41.3m) so far.
Also for Disney, Pete's Dragon has now flown to $6.2m (£4.83m) following a $155,000 (£120,000) seventh weekend.
WARNER BROS
Despite its strong reviews, The Girl With All The Gifts lacked bite on its UK bow.
Warner Bros' adaptation scored a $559,000 (£432,000) debut from its 368 sites, marking a $1,520 (£1,174) site average. It will hope that its reviews can lead to better midweek numbers.
Also for Warner Bros, The Infiltrator fell around 50% with a $238,000 (£184,000) second weekend for $1.07m (£824,000) after ten days in play.
LIONSGATE
Blair Witch fell 54% (excluding previews) as it scared up a $477,000 (£368,865) second weekend.
Lionsgate's surprise sequel is now up to $2.31m (£1.79m) after 11 days in play, and will hope to at least match Book Of Shadows: Blair Witch 2's UK result of $3.1m (£2.4m).
Also for Lionsgate, Brotherhood added $123,000 (£95,402) for $4.6m (£3.53m) and is now the highest-grossing outing of the trilogy.
Nine Lives stands at $2.67m (£2.06m).
ENTERTAINMENT
Dropping 34% in its fifth weekend, Entertainment's Bad Moms partied to a further $425,000 (£328,313) for a healthy $9.8m (£7.56m) so far.
EONE
In its tenth weekend, eOne's The BFG marched to $316,000 (£244,000) for a whizzpopping $38.5m (£29.7m) to date.
Also for eOne, Captain Fantastic has grossed $832,000 (£642,000) after three weeks in play.
VERTIGO RELEASING
Falling only 20% (excluding previews) in its second weekend after expanding to 76 sites, Vertigo Releasing's Hunt For The Wilderpeople captured $161,000 (£124,529) for $506,000 (£391,069) to date.
The New Zealand box office smash outgrossed The Magnificent Seven and The Girl With All The Gifts with only one evening show per day at Picturehouse Central, Hackney Picturehouse and Ritzy Cinema.
STUDIOCANAL
Falling around 50% in its third weekend, Studiocanal's Hell Or High Water took a further $162,000 (£125,032) for $1.9m (£1.47m) to date.
It will soon overtake Starred Up's $1.94m (£1.5m) as David Mackenzie's best-ever UK result.
Also for Studiocanal, The Beatles: Eight Days A Week - The Touring Years added $77,000 (£59,918) for $1.03m (£795,267), while The Rolling Stones Havana Moon grossed $73,000 (£56,668) from 111 sites on Friday [Sept 23].
PARAMOUNT
In its third weekend, Paramount's Ben-Hur grossed a non-final $102,000 (£79,000) for $2.65m (£2.05m).
CURZON ARTIFICIAL EYE
The Clan posted a $33,000 (£25,289) second weekend for $113,000 (£87,051) to date through Curzon Artificial Eye.
SODA PICTURES
Including previews, Soda Pictures' The Lovers And The Despot recorded a UK bow of $7,200 (£5,601) from its four sites. It opens today [Sept 26] at the Glasgow Film Theatre.
UPCOMING RELEASES
This week sees saturation releases for Fox's Miss Peregrine's Home For Peculiar Children (opens Sept 29), Studiocanal's Free State Of Jones and Lionsgate's Deepwater Horizon (opens Sept 29).
Picturehouse Entertainment's Swiss Army Man, Dogwoof's The First Monday In May and Vertigo Releasing's Under The Shadow are among the films receiving a limited release.