Burning, the latest film from South Korean director Lee Chang-dong, has hit the top of Screen's Cannes 2018 jury grid, becoming the highest-scoring title in the grid's history.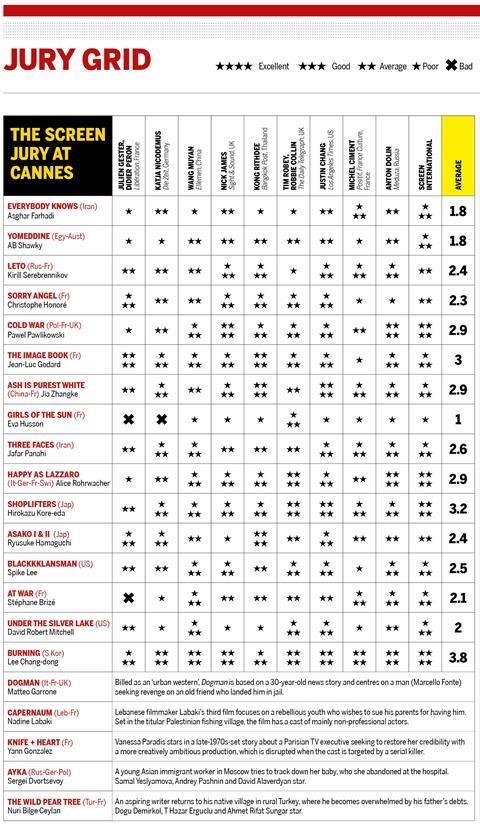 The film, which is based on the short story Barn Burning by Haruki Murakami, received an average of 3.8 from Screen's jury of ten critics, thereby surpassing the 3.7 achieved by Toni Erdmann in 2016.
All critics awarded it the full 4/4 stars with the exception of Bangkok Post's Kong Rithdee and Libération's Julien Gester and Didier Péron, who still gave it high scores of 3.
The Screen review described it as 'quietly devastating…a film of wondrous complexity and inscrutability'.
Two further titles have also taken their place on the grid. Stéphane Brizé's At War, about French workers at a car plant fighting to keep their jobs and starring Vincent Lindon, took an average of 2.1. Gester and Péron were not impressed, giving it 0 stars, but it fared better with Ellemen's Wang Muyan, Positif/France Culture's Michel Ciment, Meduza's Anton Dolin and Screen's own critic, who each gave it 3.
Under The Silver Lake, David Robert Mitchell's follow-up to It Follows in which an LA drifter called Sam (Andrew Garfield) goes in search of a missing girl, split opinion amongst jury critics. It arrived at the exact mid-point with an average score of 2.0; only Gester and Péron and Dolin gave it that exact score, with all other critics either choosing 1 (poor) or 3 (good).
Five titles have the opportunity to knock Burning from its lofty perch; next up are Matteo Garrone's 'urban western' Dogman , and Nadine Labaki's Capernaum, set in a Palestinian fishing village.