Andrew Garfield is an LA drifter on the trail of a missing girl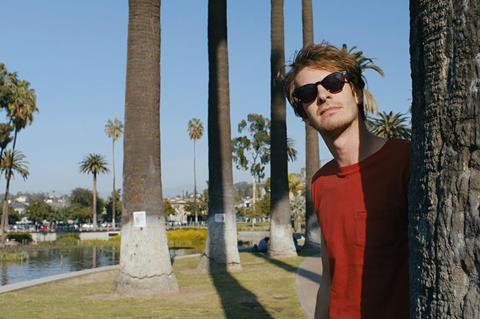 Dir/scr: David Robert Mitchell. US. 2017. 139mins.
If Los Angeles is indeed the city of dreams, then Under The Silver Lake is populated with some of the town's strangest, most hypnotizing and unsettling visions. Writer-director David Robert Mitchell's supremely confident follow-up to It Follows and The Myth Of The American Sleepover finds the filmmaker again submerging completely into the mood of his material, delivering a tasty neo-noir that wilfully melds tones and sensibilities with a playful seductiveness. Andrew Garfield's beguilingly withholding performance only sharpens the sense of discovery and mystery at the heart of this quirky, enrapturing tale.
Mitchell's dexterity at balancing romance, comedy and thrills consistently rewards the viewer's patience
Premiering in Competition at Cannes and then hitting US theatres on June 22, Under The Silver Lake boasts the critical cachet of Garfield (an Oscar nominee) and co-star Riley Keough. The betting is that younger indie crowds will be the movie's most enthusiastic audience, with cult status seemingly assured for a film that pays loving homage to Alfred Hitchcock and David Lynch.
Set on the eastside of Los Angeles, the movie stars Garfield as Sam, a directionless, thirtysomething pop-culture nerd without a job or money to pay the rent — a development that's due to get him evicted from his apartment in just a few days. That's when he meets Sarah (Keough), a beautiful neighbour who quickly entrances him. But after spending a wonderful evening getting to know her, Sam wakes up to discover that she's moved out in the middle of the night.
Sam's decision to find out what happened propels Under The Silver Lake's loopy odyssey. Much like Robert Altman's sarcastic take on Philip Marlowe, The Long Goodbye, Mitchell's movie is a surreal, stoned portrait of L.A. that doubles as an oddball mystery. Drawing on his obsession with deciphering secret codes — and convinced that some sort of dark conspiracy is to blame for Sarah's disappearance — Sam wanders from clue to clue, interacting with maniacal songwriters, weird cults and shallow partygoers in the hopes of uncovering the truth.
At nearly 140 minutes, the film takes its time to establish its characters and their milieu, not to mention laying out all the twists and turns in Sam's investigation. It can tip into self-indulgence when a particularly peculiar sequence doesn't hit as hard as previous ones. But Mitchell's dexterity at balancing romance, comedy and thrills — as well as exploring the poetic metaphors below the surface — consistently rewards the viewer's patience.
There are clear references to Rear Window, Vertigo and Mulholland Dr. but, as with the writer-director's previous outings, the new film draws from his influences to sculpt something personal and specific. Even better, he builds on past strengths to reach new heights. The horror tropes he plundered for It Follows are, here, used to craft disconcerting scenes of nocturnal dread. Under The Silver Lake moves from realism to fantasy without warning, which only makes its creepy moments eerier. And his ability to create compelling characters who remain a bit opaque pays off in a film whose protagonist surprises us with his resourcefulness and unexpected impulses.
Garfield plays Sam as a going-nowhere slacker, juxtaposing the actor's inherent sweetness with the character's occasionally callous and selfish behaviour. As Garfield and his director guide Sam along this whodunit, they're also navigating another mystery; unravelling who this young man is and what precisely has left him feeling so spiritually adrift. It's telling that although Sam has plenty of movies and a guitar in his home, although we're never quite sure precisely what he does — like so many L.A. denizens, he seems to be drifting through his own private trance, disconnected from the real world.
The composer Disasterpiece, who provided It Follows with its menacing score, imbues Under The Silver Lake with a mixture of unease and florid beauty, hinting at both L.A.'s Hollywood glamour and its dark desperation while echoing Bernard Herrmann's shimmering romanticism. The music proves to be the film's heartbeat, mirroring the storytelling's paranoid tension and bizarre reveals. If the destination ultimately proves a little less satisfying than the trip, Mitchell and his collaborators fill us with so many moody reveries that we succumb to its warped logic and indelible vividness.
Production companies:Vendian Entertainment, VX119 Media Capital, Stay Gold Features, Good Fear, Michael De Luca Productions, PASTEL, UnLTD Productions, Salem Street Entertainment, Boo Pictures
US distribution: A24/International sales: Insiders, ndevide@insiders-films.com
Producers: Michael De Luca, Chris Bender, Jake Weiner, Adele Romanski, David Robert Mitchell
Production design: Michael T. Perry
Editing: Julio C. Perez IV
Cinematography: Michael Gioulakis
Music: Disasterpeace
Main cast: Andrew Garfield, Riley Keough, Topher Grace