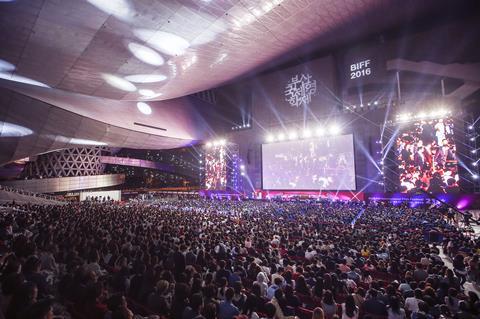 South Korea's Busan International Film Festival (BIFF) has decided to postpone its 25th edition by two weeks and downsize "significantly" due to the global coronavirus pandemic.
"The decision was made to take strict preventive measures and ensure safe operation of the festival. Busan International Film Festival is cancelling various events and focusing on film screenings. Busan International Film Festival prioritises the safety of citizens above all. The festival will proceed with serious reflection on the direction that it should take and the role that it should play," stated BIFF in a press release.
In a much-anticipated board meeting held today (September 11) at the Busan Cinema Centre to decide the festival's direction this year, organisers decided to push the event's dates from October 7-16 to October 21-30.
The festival stated that the main reason for the postponement was "concern over the spread of Covid-19 after Chuseok (Korean Thanksgiving) holidays".
Chuseok traditionally sees major migration, although this year public health officials are exhorting citizens to stay home and celebrate and pay respects through other means than travelling to gather with extended family.
The lunar calendar holiday this year falls September 30-October 2, running into the first weekend of October.
No international guests will be invited to BIFF this year.
The festival is cancelling all outdoor events - including the Opening and Closing ceremonies as well as outdoor greetings and talks - in order to prevent crowds from gathering. There will be no receptions or parties where film industry professionals would mingle and network either.
This year's official selections will be screened at Busan Cinema Centre alone, "in strict compliance with governmental guidelines". Asian Contents & Film Market, Asian Project Market, and Forum BIFF will all be hosted online. Their dates will also be pushed back to run parallel to BIFF, to be announced Monday, September 14, along with further festival details and this year's line-up.
The festival added the caveat that "if Level Two social distancing protocol is continued or escalated during the rescheduled festival period, Busan International Film Festival may ultimately be cancelled."
According to the Central Disaster Management Headquarters and Central Disease Control Headquarters, South Korea has an accumulated 21,919 confirmed cases of Covid-19, with 176 new cases reported as of midnight last night. The country has had 350 Covid-19 deaths.
It has in past weeks heightened safety measures according to a rise in case numbers, although it has yet to go to Level Three, the equivalent of complete lockdown.