Busan's Asian Film Market closed today with Hana Makhmalbaf's London Stories picking up the top Busan Award at the Asian Project Market.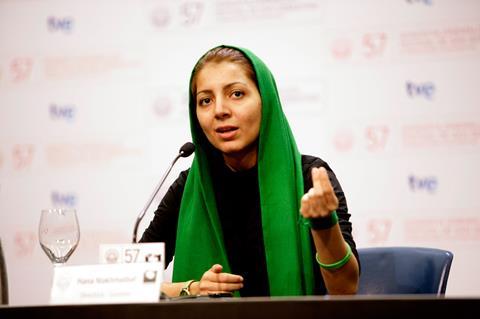 Producer Maysam Makhmalbaf told ScreenDaily: "Last time we had The President in APM with my father directing, and it screened in Busan the next year - last year.
"This time, we are here with a project for Hana and we hope the same will happen again next year."
Following four women over a 24-hour period in the UK capital, the project aims to delve into the different layers and cultures of the city's modern society.
Yu Lik-Wai's China-France co-production A Means To An End picked up the Dexter Studios Award. Produced by Francois Da Silva, the project features a French drifter who gets caught up in the underworld of professional gambling in Hong Kong and Macau.
Sponsored by major Korean entertainment media company Next Entertainment World (NEW), the inaugural NEW Creator Award - Book to Film Pitching went to Tchue Jong Lim's Disappeared The Time 4:10 (Korea), directed by Tchue Jong Lim.
The first NEW Creator Award - E-IP Pitching went to The Underdog, to be directed by Oh Seongyun & Lee ChunBaek.
Full APM winners list
Busan Award ($20,000 for an official project)
London Stories (UK)
dir. Hana Makhmalbaf, prod. Maysam Makhmalbaf
Dexter Studios Award ($20,000 for an official project)
A Means To An End (China, France)
dir. Yu Lik-Wai, prod. Francois Da Silva
CJ Entertainment Award ($10,000 for a foreign project)
Birdshot (Philippines, Qatar)
dir. Mikhail Red, prod. Pamela L. Reyes
Lotte Award (KW10m for a Korean project)
Brother (Korea)
dir. Kim Tae-yong, prod. Kim Jeong-min
KOCCA Award (KW10m for an official project)
The Adventure Of Han Meimei (China, Korea)
dir. Kim Junghan, prod. Ahn Dongkyu & Park Syu Young
Arte International Prize (€6,000 for an official project)
The Wasted Land (Indonesia, France)
dir. Eddie Cahyono, prod. Isabelle Glachant & Ifa Isfansyah
Moneff Award ($30,000 worth of post-production services for an official project)
Unlosable (Taiwan)
dir. CJ Wang, prod. Michelle Yeh
Full E-IP winners list
NEW Creator Award - Book to Film Pitching (KW10m)
Disappeared The Time 4:10 (Korea)
dir. Tchue Jong Lim, publisher Think-Book
NEW Creator Award - E-IP Pitching (KW10m)
The Underdog (Korea)
dir. Oh Seongyun & Lee ChunBaek, companies: Odoltogi, Dream Search C&CC&C