The money is set to be divided between big-budget commercial projects and independent films shot in the Korean city.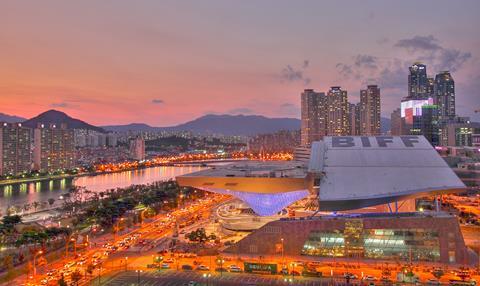 Korean production and distribution outfit Lotte Entertainment is launching a new $17.3m film fund in partnership with the city of Busan, Busan Bank and Seoul-based firm Timewise Investment.
According to Korean media reports earlier this week, the Busan-Lotte Creative Film Fund has been set up to grow the film production ecosystem in the port city, which also hosts the Busan International Film Festival (BIFF).
Lotte will contribute $8m to the fund, while the city will add $5m, Busan Bank will add $3.3m and Timewise will add $0.8m.
Timewise will manage the fund's assets, while Lotte and the city of Busan will be the fund's limited partners.
$8m of the fund has been earmarked for big-budget commercial ventures, while the remaining money will go towards the production of independent films shot in Busan.
Qualifying projects will need to shoot 20% of sequences in the city in order to qualify for funding, while films with a budget of under $500k can apply for up to 50% reimbursement on production costs.
The same Korean news report points to speculation that the timing of the fund's announcement may be related to recent controversy surrounding the removal of BIFF festival director Lee Yong-kwan.