EXCLUSIVE: Sales company also launches sports drama Split starring Yoo Ji-tae.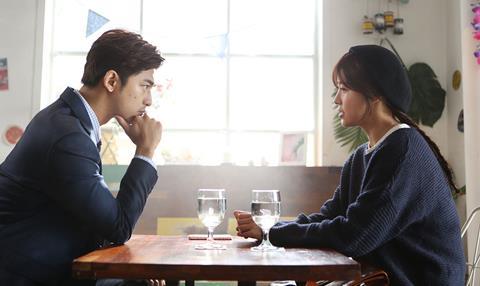 Ahead of their world premieres, Korean sales company United Pictures (UP) has signed a raft of deals on Lee Yoon-ki's fantasy drama One Day and romantic comedy/thriller Life Risking Romance, starring Korea's Ha Ji-won (Haeundae) and Taiwan's Chen Bolin (20 Once Again).
One Day, starring Kim Nam-gil (The Shameless) and Chun Woo-hee (The Wailing), has sold to Japan (Fine Films) and China (Lemon Tree). The film is about an insurance agent working on the case of a blind woman in a coma whose apparent spirit visits him in the hospital for help.
The film is set to have its world premiere at the TIFFCOM market.
Directed by Song Joy, Life Risking Romance, which also features Chun Jung-myung (Queen Of The Night), has sold to Japan (Takeshobo), Taiwan (Movie Cloud), Hong Kong (i-Cable Entertainment), the Philippines: (MVP Viva) and in-flight rights (Emphasis).
The film is about a mystery writer (Ha), notorious in her town for habitually making false reports, who starts investigating a neighbor (Chen) she suspects is a serial killer. Her longtime friend (Chun), a police officer, helps her out but gets a bit jealous as he watches her fall for the handsome stranger.
Currently in post-production, the film will be released in Korea this December.
The company is also launching sales on sports action drama Split [pictured right], starring Yoo Ji-tae (Old Boy), at Busan's Asian Film Market where it will have its market screening world premiere Oct 9.
Directed by Choi Kook-hee, Split follows a fallen bowling pro (Yoo) who gets involved in gambling and starts training an autistic boy with a talent for the game, played by Lee Jung-hyun (Roaring Currents). They make a great team, but things get dangerous when they go up against a tycoon.
The film is set for local release in November.