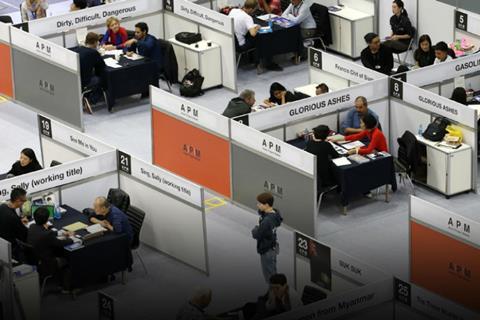 Busan International Film Festival (BIFF)'s Asian Project Market has unveiled the 29 projects selected for this year's edition of the financing and co-production event (October 6-8).
The line-up includes Silah And The Man With Two Names, the new project from Indonesian director Yosep Anggi Noen, whose latest film The Science Of Fictions will premiere in competition at this year's Locarno.
Other projects of note include Black And White Photo, from Nepali filmmaker Rajesh Prasad Khatri, which received development funding from BIFF's Asian Cinema Fund this year; The Rain Bride, by Hussein Hassan, whose credits include The Dark Wind, which screened as BIFF's closing film in 2016; and Mother Tongue, from Kazakhstan's Zhannat Alshanova, who has received recognition in Cannes and other festivals for her short film.
Chinese-language cinema is represented by projects such as Hu Jia's The Courier Always Knocks Twice, Luo Bin's Black Sheep and Coo-Coo from Chan Ching Lin.
Several Vietnamese projects were submitted this year, reflecting the growth of the Vietnamese film industry, among which APM selected Skin Of Youth from Ash Mayfair (The Third Wife) and Picturehouse by director Nguyen-Vo Minh.
Korean selections include projects from rising stars in Korean commercial cinema, such as Han Junhee's The Scarecrow, Kim Jinhwang's Moon Chasers and Kang Donghun's The Child. Projects from Korean independent directors include Boo Jiyoung's About Daughter, based on Kim Hyejin's novel of the same title, Jang Kunjae's A House With Ghosts, involving renowned Japanese writer Yoshimoto Banana, and Cho Minjae's Root Story.
This year's APM received 384 projects from 60 countries, with India, the Philippines and Japan among the territories submitting the most projects. Submissions also included an increase in the number of co-produced projects between countries such as France, the US, Nepal and Malaysia.
ASIAN PROJECT MARKET 2019:
About Daughter (Korea)
Dir: BOO Jiyoung
Prod: JE Jeongju
Akron International (US, Nepal)
Dir: Binod PAUDEL
Prod: Yatin PARKHANI
Black and White Photo (Nepal, Hong Kong, France)
Dir: Rajesh Prasad KHATRI
Prods: CHONG Shuk Fong, Min Bahadur BHAM, Catherine DUSSART
Black Sheep (China)
Dir: LUO Bin
Prod: LIANG Haipeng
Boldstar (Philippines)
Dir: Antoinette JADAONE
Prods: Bianca BALBUENA, Dan VILLEGAS
The Child (Korea)
Dir: KANG Donghun
Prod: Jung Youn
Coo-Coo (Taiwan)
Dir: CHAN Ching Lin
Prod: LIN I-Ling
The Courier Always Knocks Twice (China)
Dir: HU Jia
Prod: Daniel YU
Cry Out in the Snow (working title) (Japan)
Dir: SATO Takuma
Prods: OHINATA Jun, BANSE Megumi
Golden (Philippines)
Dir: Jaime HABAC Jr.
Prods: Omar SORTIJAS, Daphne CHIU
Good Day (Korea)
Dir: KIM Mooyoung
Prod: KIM Mooyoung
A House with Ghosts (Korea)
Dir: JANG Kun-jae
Prods: LEE Eun-kyoung, FUJIOKA Miwako
Marichjhapi (India)
Dir: Bauddhayan MUKHERJI
Prod: Monalisa MUKHERJI
Mine (working title) (Japan)
Dir: MATSUNAGA Daishi
Prod: OGAWA Shinji
Moon Chasers (Korea)
Dir: KIM Jinhwang
Prod: HAN Jaeduk
The Moon is a Father of Mine (Georgia, France, Hungary)
Dir: George OVASHVILI
Prods: George OVASHVILI, Guillaume de SEILLE, Gabor FERENCZY, Eike GORECZKA
Mother Tongue (Kazakhstan)
Dir: Zhannat ALSHANOVA
Prod: Julia KIM
Nightwalk (US, Philippines)
Dir: Ron MORALES
Prods: Rebecca LUNDGREN, Joshua SOBEL
Passion of Shangri-La (Singapore, Malaysia)
Dir: Boi KWONG
Prod: Jimz LEE
Picturehouse (Vietnam)
Dir: NGUYEN-VO Minh
Prods: NGUYEN Bao, NGUYEN-VO Minh
The Rain Bride (Kurdistan)
Dir: Hussein HASSAN
Prods: Mehmet AKTAS, Lea DRESCHER
The River Runs Red (Malaysia)
Dir: Zahir OMAR
Prods: Muhammad BAHIR, Bront PALARAE
Root Story (Korea)
Dir: CHO Minjae
Prod: KIM Ilkwon
The Scarecrow (Korea)
Dir: HAN Junhee
Prod: Vince BYUN
Silah and the Man with Two Names (Indonesia)
Dir: Yosep Anggi NOEN
Prod: Yulia Evina BHARA
Skin of Youth (Vietnam)
Dir: Ash MAYFAIR
Prod: TRAN Thi Bich Ngoc
Topography of Solitude (Japan)
Dir: NAKAI Noemie
Prod: WATANABE Satch
The Waste Collector (India)
Dir: Suman GHOSH
Prod: Dipankar DAS
Winter Worm, Summer Grass (Korea)
Dir: KANG Sang-woo
Prod: HAN Sunhee