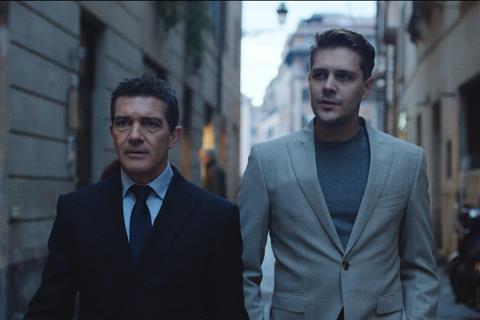 AMBI Distribution has closed a flurry of deals for action thriller Beyond The Edge starring Antonio Banderas.
The film had its first screening here at AFM and AMBI CEO Andrea Iervolino has confirmed deals to France and French-speaking Europe (Program Store), Japan (Klockworks), Germany (Eurovideo), China (Turbo Film), Spain (Selecta Vision), Russia (Karoprokat), Latin America/Eastern Europe/Turkey (SPI), Switzerland (Impuls), Middle East (Falcon), Greece (Feelgood), Portugal (NOS Lusmundo), Singapore (Shaw), South Korea (AiasPlus), Malaysia and Vietnam (Rainfilm) and former Yugoslavia (MCF).
Banderas plays a cool fraudster with a conflicted relationship with his son, who also happens to be one of the world's top thieves. The son's plans to rob a bank are thwarted by an adversary with seemingly supernatural powers. The cast also features Milos Bikovich and Petar Zekavica.
Russia's Aleksandr Boguslavskiy and Italy's Francesco Cinquemani co-directed the film, which shot in Italy, Russia and Georgia.
AMBI's Andrea Iervolino and Monika Bacardi produced the film with Evgeniy Melentyev and Victor Denisyuk and his Kinodanz production company. Ares Film executive produced.
The film will get a wide release in Russia on March 1, 2018.
Beyond The Edge marks AMBI's third film with Banderas, after The Music of Silence and Black Butterfly. He will also star in AMBI's forthcoming Lamborghini biopic.