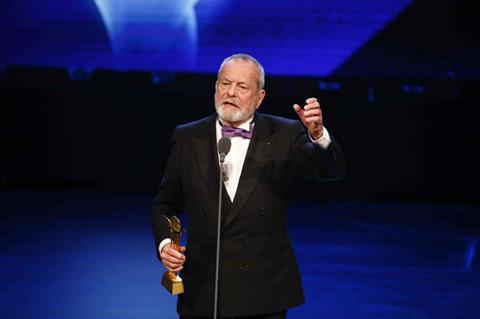 The Cairo International Film Festival opens Wednesday evening (November 20) with the Middle East and North Africa premiere of Martin Scorsese's The Irishman, one week ahead of its global release on Netflix.
The mobster drama is among 150 films due to screen at the festival across 11 sections, including the International Competition, the Horizons of Arab Cinema and Focus on Mexico.
UK director Terry Gilliam attended the glitzy opening ceremony to receive the festival's Faten Hamama Excellence Award for his lifetime contribution to the cinematic arts.
Other honourees included Egyptian director Sherif Arafa, whose award-winning credits include Playing With The Giants, The Passage and Terrorism And The Kebab, as well as Egyptian actress Menna Shalaby, whose recent films include The Originals and Diamond Dust.
Fifteen features compete for the Golden Pyramid prize in international competition, including two world premieres Between Heaven And Earth by Palestinian filmmaker Najwa Najjar and Zavera by Romanian director Andrei Gruzsniczki.
Najjar's long-gestating third feature Heaven And Earth, following Eyes Of A Thief and Pomegranates And Myrrh, is about a Palestinian man who makes a shocking discovery about his famous Palestinian revolutionary father when he tries to file for divorce.
Zavera, which is also a third feature, is set against the backdrop of the funeral of a businessman with a secret life.
A dozen films are in the running for the Horizons of Arab Cinema Competition.
World premieres in the selection include Lebanese director Elie Kamal's feature documentary Beirut Terminus and two features from Morocco, Hassan Benjelloun's drama For The Cause, about band members stuck at a border due to absurd rules, and Mohamed Nadif's The Women In Block 'J' about three women in a psychiatric ward.
Bolstered industry programme
This edition marks respected Egyptian producer Mohamed Hefzy's second year at the helm. One of his biggest additions to the programme has been the creation of the Cairo Industry Days comprising Cairo Film Connection (CFC) co-financing platform, workshops and a series of masterclasses and talks.
The CFC, running November 24-26, will showcase fiction and documentary features in development and post-production.
Projects in development include The Land Beyond by Egyptian director Nadine Salib. The drama, about a mute orphan in an exiled community trying to preserve her mother's lullaby, recently won the top award at the Thessaloniki Film Festival's Crossroads Co-production Forum.
Italian-Iraqi filmmaker Haider Rashid will preview his upcoming drama Europa, about an Iraqi man who is seized by Bulgarian vigilantes when he tries to cross into Europe from Turkey, in the post-production line-up.
Documentary projects in the selection include Mark Lotfy and Axel Petersen's bio-doc Omar Sharif, which is in development. Syrian Egypt-based director Nidal Al Dibs will show extracts of Home There… Cinema Here, about an abandoned Cairo cinema which was occupied by young revolutionaries in 2011.
Further highlights of the industry meeting include a four-day EAVE screenwriting workshop led by producer Diana Elbaum, script consultant Clare Downs and Gabor Greiner, head of acquisitions at German sales company Films Boutique.
There will also be the inaugural Middle East Media Initiative, a three-day TV-focused event, aimed at connecting Middle East and US TV executives. The initiative is produced by the USC School of Cinematic Arts with the US State Department.
Speakers in the masterclass and talks programme include international sales supremo Stuart Ford, festival guest of honour Terry Gilliam and Mexican filmmaker Carlos Reygadas.
For the first time, Cairo Industry Days will also host the Screen's Arab Stars of Tomorrow. In its third edition, the initiative showcases five emerging talents from the Middle East and North Africa. The selection will be announced on November 24.
The festival runs until November 2