Egyptian producer and Cairo International Film Festival director Mohamed Hefzy tells Screen about his journey from metallurgical engineer undergraduate in London to A-list festival habitué.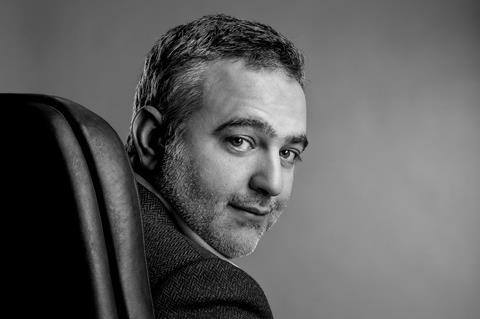 In the summer of 2008, late screenwriting guru Syd Field, author of bestselling works such as Screenplay: The Foundations Of Screenwriting and The Screenwriter's Workbook, travelled to Cairo for a two-week workshop to teach a group of budding Egyptian writers. It was the first time a US screenwriting professional of such stature had been brought to Egypt to coach local talent, and a seminal moment for many of the participants as they learned about concepts such as the three-act structure and the dramatic need.
The event was the brainchild of then 30-something screenwriter Mohamed Hefzy as part of his drive to develop a stable of new writers under the banner of his fledgling outfit the Film Clinic, which he initially created as a sort of writers' lab offering training and practical development support.
Now one of the Arab indie cinema scene's most influential producers — with 30-odd producer credits including Mohamed Diab's post-Egyptian revolution drama Clash, Amr Salama's quirky coming-of-age musical drama Sheikh Jackson and 2018 Cannes Competition selection Yomeddine — back then Hefzy barely had a producer credit to his name. Instead he was one of Egypt's hottest young screenwriters, having penned half-a-dozen commercial star vehicles including the romantic drama Snakes And Ladders and action thrillers Tito and Open Your Eye.
But having grown disenchanted with this work, he was in the process of expanding his activities beyond mainstream Egyptian cinema. It was not the first time Hefzy had moved his professional goalposts. Prior to breaking into screenwriting, he had been destined to enter his family's copper manufacturing business. But while studying for a metallurgical engineering degree at Brunel University London, he had fallen in love with cinema.
"It's a family tradition and I went to school for that but I didn't know it would end up completely transforming my life," he says. "Going to London gave me the chance to see great theatre as well as cinema from all over the world."
Inspired, Hefzy reconnected with his childhood love of creative writing and embarked on his first screenplay, which he intended to direct and produce himself. While he has yet to fulfil his directorial ambitions, the screenplay became his calling card on his return to Egypt, where it caught the attention of director/producer Tarek Alarian, who commissioned Hefzy to write 2001 romantic drama Snakes And Ladders. "A generation of people who were in their teens and early 20s back then grew up with this film as a reference for relationships in the modern age," he says.
Fast forward to 2008, Hefzy was resetting his career in a move that would transform his life once again.
Why did you decide to turn your back on mainstream screenwriting?
After six or seven screenplays, I realised I'd got caught up in simply writing vehicles for big Egyptian stars and certain types of films that creatively were not satisfying for me. I wanted to do something different. I decided I wanted to work with writers to develop a sort of network that would act as a pipeline for the industry. But rather than the big names, I wanted to focus on the youngsters who came to me with ideas for screenplays, seeking my advice. Some of these kids were really talented, so I said let's find a way to get everyone to contribute creatively to the films I'm hired to write.
How did you connect with all these writers?
In spite of being a city of 20 million people, Cairo is a city where everybody knows somebody who is somehow linked to the creative field. It's a small community. I'd hear about people with scripts, or promising directors and actors on the grapevine. People would come to me through friends, or friends of friends. People started getting in touch directly as the Film Clinic labs became more well-known.
Why and when did you decide to start producing?
I started getting into production around 2007. I realised I was doing all the work that a producer does to get a script right, developing it and sometimes even packaging it and thinking about how to attach talent. All that was missing was the financing and distribution part but this also started to fall into place when broadcasters and studios like ART [Arab Radio and Television Network] and Rotana Studios started approaching me, hungry for content.
They said, "We trust you to produce and we'll finance you." It made sense for me to tap into the community of creative people who were linked to the Film Clinic family, which by then wasn't just writers but also directors and actors. My first two or three films were a springboard for new talent including new actors who are now huge stars.
In the beginning, I was working mainly on mainstream films aimed at the local market [like Amir Ramses' comedy War2et Shafra and Amr Salama's debut feature On A Day Like Today]. A key turning point came in 2010 when I produced Ahmad Abdalla's Microphone.
Why was Microphone such a seminal moment for Film Clinic?
Up until then, I had only worked on mainstream films for the local market. Abdalla at that time was making films with very little money and a minimum crew. It was the first time I'd worked with a film made in this way. It was also my first film to travel the international festival circuit. It started off in Toronto and went to nearly 60 festivals. I toured a lot with the film. It opened my eyes to the different ways of making and financing films and getting them exposed beyond the local markets.
At the same time, it is difficult to get these sorts of works distributed locally, but because I was also making mainstream films I was able to leverage them. I could package these smaller films with the bigger films for distribution, financing and sales. This gave me an edge and is a formula that has stuck to this day.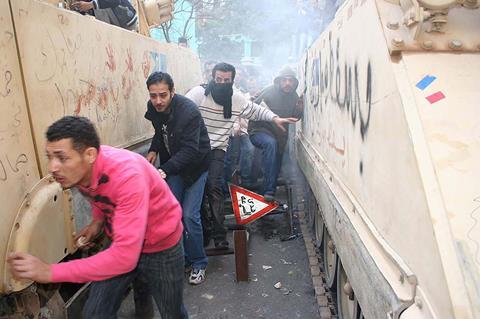 Shortly after Microphone, the Egyptian revolution erupted in early 2011. How did this affect Film Clinic?
For me it was a huge opportunity despite the fact the entire country stopped producing. That year, I started making three films. One of them, the documentary Tahrir 2011: The Good, The Bad, And The Politician, went to Venice and Toronto. I was also one of the many producers involved in the collective film 18 Days, a cinematic celebration of the Arab Spring, which played at Cannes. The whole world was looking at the Egyptian revolution.
It's not to say these were bad films but I wonder whether 18 Days would have made it to Cannes on purely cinematic terms. Probably not, but it offered a spotlight on things that were going on in the region.
You opened Film Clinic Indie Distribution in 2016 to distribute Arab arthouse films in the MENA region. What kind of audiences do you achieve for these titles? What did Yomeddine achieve, for example?
Very little. It made 20,000 admissions. The average cost of a ticket is $4.50 so you're talking a return of about $2 a ticket. It's not an amazing result but for this sort of film, 20,000 admissions in Egypt is good. Withered Green, which I co-produced and also distributed, did 5,000 admissions. But Withered Green was such a well-reviewed, well-regarded film that I still see it as a success. It's all relative. I've also made films that have sold 800,000 tickets [romantic comedy Hepta: The Last Lecture]. I've been in both extremes but I'm just as proud of my small films as my big ones and their relative success in respect to their budgets, ambitions and critical success.
An Arab feature film has never triumphed at the Oscars. As a new US Academy member and someone who has submitted three films to the Oscars in the past, do you think Arab cinema stands a chance?
With Clash, I didn't think we had a chance because we didn't have money for a campaign — we couldn't afford to hire a campaign PR company and cover the expenses.
With Sheikh Jackson, we had a little more budget because the US distributor [Cleopatra Distribution] contributed a bit. And with Yomeddine, I felt we had the best chance, the main producer [Dina Emam] managed to raise something like $70,000. It still wasn't enough but it was more than the other Arab films out there.
It was a shame it didn't get to the final [longlist of] nine, let alone to the final five. Egypt has never had any nominations but if you look at the past five years there have been plenty of Arab nominations from Theeb to Omar, The Insult and Capernaum. It's looking better. I don't think it's impossible that an Arab film could win in the next five years.
Alongside your production and distribution activities, you also took on the role of director of Cairo International Film Festival in 2018. Don't you already have enough on your plate?
I was contacted by the ministry of culture in April 2018. I was a little bit surprised. I was the director of Ismailia International Festival for Documentaries & Shorts for two years, which gave me a little bit of experience but it doesn't qualify you for a festival the size of Cairo, which shows something like 150 films.
But I met with the minister who gave me plenty of assurances and promised a lot of support. Part of it was also that I was worried what would happen to the festival if someone didn't step up to help. It's a festival with a lot of history. In spite of the success of festivals like El Gouna and other newer festivals in the region, you know it's always going to be there regardless of its ups and downs, even if it goes through revolutions, turbulence and economic and political insecurity.
What is the status of your upcoming productions: Zeina Durra's romantic drama Luxor, Mohamed Diab's Palestine-set drama Sara (previously titled Deja) and Amr Salama's Netflix-backed supernatural thriller Paranormal?
Luxor is in post-production and we're aiming for early 2020 festival. Paranormal is shooting in Egypt this month and hopefully will air next year. It's an Arabic original aimed at a global audience. It will be dubbed into nine languages and subtitled in 17. The source material is really strong [the bestselling novels of the late writer Ahmed Khaled Tawfik] and ingrained in pop culture here [in Egypt].
Mohamed Diab's film will be shooting at the same time in Jordan. We'll announce an exciting cast once it has started shooting and after Cairo. I don't know how I'm going to do it. I have two productions starting on pretty much the same day, with the festival 10 days later. It's going to be an interesting time.
You worked with Europe to help fund your edgier arthouse films. How did you do this, for example, on Diab's Clash?
Diab came to me after his first feature, Cairo 678, with his new script. It was set in a truck and related to the revolution of 2013. I loved the concept and the characters but I could see it would be challenging from a production point of view. I decided the best way to do it was to set it up as a co-production with France, because of the success of Cairo 678. Daniel Ziskind [Film Clinic's representative in Europe] connected me with Eric Lagesse at Pyramide Films who had already been involved in Cairo 678.
We used the co-production treaty between Egypt and France and applied for CNC and Arte funding and got both. I raised the rest of the money from the Middle East. A German co-producer also came on board with a small share.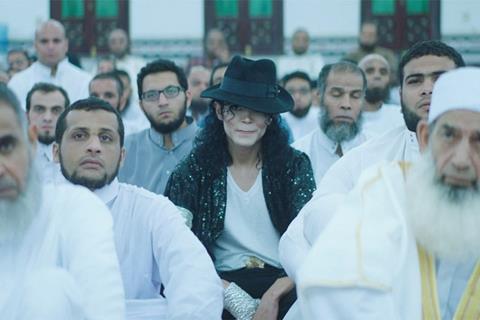 Like many countries in the Middle East, Egypt has strong censorship rules around sexual, political and religious content. You have produced several films that touch on these areas, such as Clash and Sheikh Jackson. How do you navigate the rules around censorship?
In the case of Sheikh Jackson, I was honestly very concerned because of one scene especially — the scene when Michael Jackson is dancing in a mosque. The only thing that made me feel a little more secure was that it was a fragment of the protagonist's imagination. Miraculously, that scene stayed in the film.
We had a big debate with the censorship board here in Egypt but its head was very brave. He took it upon his own responsibility to keep the film intact without cutting anything. It was released and did well locally and on the festival circuit. It ended up representing Egypt as the Oscar submission.
But there was a backlash by some conservative people who thought the scene was offensive and Amr Salama, the director, was actually summoned by the attorney general for questioning about that scene.
There was no case but it was quite scary for him. We all knew there was a risk and he decided to go through with it nonetheless, but I'm happy it turned out okay.