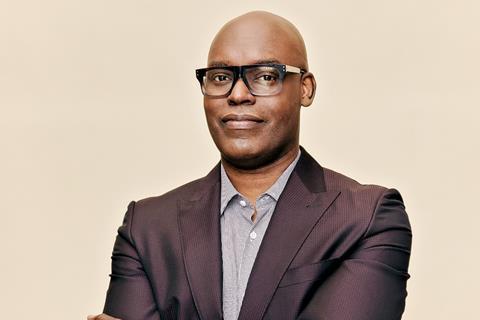 Cameron Bailey, the former Toronto International Film Festival artistic director and co-head who joined the organisation as a programmer in 1990, has been appointed TIFF CEO.
The move had been expected and follows the recent departure of former TIFF co-head and executive director Joana Vicente to head up Sundance Institute.
Bailey will focus on "building a Toronto International Film Festival for the future" as well as a "transformative TIFF experience all year round", an offering that will take place in the organisation's hub TIFF Bell Lightbox – which reopened in September following a year-long pandemic shutdown – and online.
Given Bailey's expanded role beyond curation the new CEO told Screen he anticipated shorter scouting trips to international film festivals. At time of writing Bailey and his team were building a plan for the future of the organisation and it remained unclear if and when TIFF will appoint a new artistic director and expand the programming team.
Bailey started as a programmer and worked on Perspective Canada, founded the Planet Africa section, was promoted to TIFF artistic director and then made co-head, culminating in today's announcement.
His appointment follows Monday's news that Jeffrey Remedios had been named chair of TIFF's board. Remedios called Bailey "a luminary in the global film industry" whose "committed leadership, strategic perspective and unparalleled passion has already built an essential foundation for this organisation".
Bailey said he was ready to take on every aspect of what "TIFF is and does". He highlighted the need to build a festival for the future and emphasised the desire to champion the theatrical experience while remaining open to change. "Wherever the film industry and culture are going, we need to be there," he said. "We need to ensure we stay relevant in the curatorial aspect and also in how film is delivered."
TIFF Bell Lightbox, financials
TIFF Bell Lightbox will be a central element in how TIFF presents cinema and Bailey's goal is to grow its visibility both during the festival and year-round programming alongside the online platform used in the last two iterations of TIFF.
On Wednesday (December 1), TIFF Bell Lightbox will host the world premiere of Searchlight Pictures' awards prospect Nightmare Alley by Guillermo del Toro (which partly shot in Toronto) in conjunction with the red-carpet premiere at at Lincoln Center in New York and a simultaneous screening at the Academy Museum in Los Angeles.
The Toronto venue will also host an advance screening on December 11 of Paul Thomas Andersen's Licorice Pizza in 70mm ahead of its December 24 debut. There have been recent screenings of awards heavyweights Julia Ducournau's Palme d'Or winner Titane, Jane Campion's The Power Of The Dog and Ryusuke Hamaguchi's Japanese Oscar submission Drive My Car.
Bailey said TIFF's financials were in good order. Every major sponsor has stayed despite the recent challenges posed by Covid-19 and the new CEO also pointed out TIFF has benefited from government wage subsidies.
"We're in a good position to come back next year when we anticipate conditions will be better than they have been over the last couple of years," Bailey said, adding that he was indebted to TIFF's founders and previous leaders for building "an organisation dedicated to making positive change in the world for filmgoers, filmmakers, and all the professionals who make movies matter".
Last September's hybrid TIFF was a relatively modest affair in contrast to the buzzy in-person Venice where awards season prospects like Denis Villeneuve's Dune, Pablo Larrain's Spencer and Jane Campion's The Power Of The Dog all premiered. TIFF secured world premieres of The Eyes Of Tammy Faye starring Jessica Chastain and opened with Stephen Chbosky's Dear Evan Hansen although neither ignited audiences and the media in the way that the films in Venice and Telluride (where King Richard and Cyrano were among the world premieres) managed to do.
Given that Canada had been playing catch-up with its vaccine roll-out, national borders only reopened within days of the festival's start, and a surge of the Delta variant kept most of the US industry away, however, many supporters credit the organisation for staging a festival at all. The slimmed-down 2021 iteration presented around 100 features and, despite a crash of the online viewing portal on the first day, by and large the public-facing event went smoothly.
The consensus among awards consultants and several studio executives maintains that each of the fall festival trinity of Toronto, Venice and Telluride has a distinct role to play. Sony Classics co-president Tom Bernard told Screen recently that keeping a virtual element amid the Delta surge was the most responsible thing to do at the time and added that TIFF has genuine value.
"We have always used Telluride and Toronto to launch our Oscar campaigns in the US," he said. "Venice has been for our international films. TIFF draws a strong US media presence which makes it important to launch films there."