Party with Elton John for $6,000, Leonardo DiCaprio for $5,500, or snag access to the exclusive Vanity Fair bash for the princely sum of $11,000 – black market ticket services are purportedly offering the opportunity for deep-pocketed punters to buy their way into some of Cannes' most glamorous events.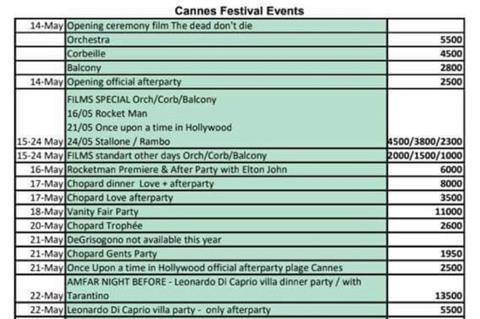 Screen has seen a pricelist for events across the festival [pictured above] - the amounts are understood to be US dollars - and other companies are also advertising the same services online. One called VIP Concierge was contacted anonymously by Screen and claimed to be able to offer entry to last night's Rocketman Cannes premiere and after-party for $7,500 per person, Once Upon A Time In Hollywood on Tuesday for $9,500 and next Thursday's amfAR charity Gala for $15,995 - $29,900, depending how close to the stage we wanted to sit.
"There is a proper French black market for these tickets, it's massive," said a source with knowledge of the situation, who joked they could have "made a fortune over the years" from selling on tickets to festival events.
Acquiring tickets for these events should not be possible as they are invite-only (aside from amfAR, which can be purchased). Vanity Fair's Cannes soiree at Hotel du Cap-Eden-Roc on Saturday (May 18) operates a named ticket policy that has to match with a door list held at the exclusive venue.
"The Vanity Fair Cannes Party is and always has been by invitation-only, it is impossible to purchase tickets," commented a spokesperson for the magazine.
But multiple sources pointed out it would be possible to gain access to the party with someone else's ticket as no further ID is required on the door.
When asked exactly how any purchased ticket or access would work in practice, VIP Concierge claimed to be able to add names to "will call" lists, when tickets are picked up at the door to events.
How these services are acquiring these tickets isn't clear, but there was a similar reported case in 2017 when a member of the Hollywood Foreign Press Association was caught selling on their Golden Globes tickets for $39,000. After being exposed, they were banned from the organisation for two years. The service that brokered the deal for those Globes tickets was VIP Concierge.
A Cannes spokesperson acknowledged the existence of the black-market tickets. "We are fully aware [of the companies advertising these services]. We have had an example this year of a Russian website we are prosecuting in order to get it banned."
"It is highly possible this is a scam without any real tickets at the end of the line. In previous cases, we have also been able to prosecute, and guilty parties were condemned."
At press time Screen was unable to confirm how much a ticket to its annual UK party was worth on the black market.