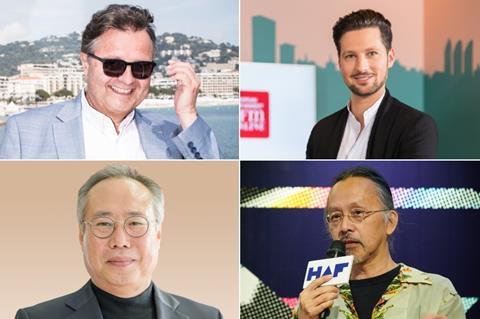 Expanded industry programmes, smaller physical attendance and more episodic content are among the ways that film markets are likely to develop post-pandemic, according to four major film market directors during a panel discussion at Busan's Asian Contents and Film Market (ACFM).
The four market chiefs – Cannes Marche's Jerome Paillard, European Film Market's Dennis Ruh, HKIFF Industry director Jacob Wong and ACFM's Oh Seok Geun – all said they've been impacted by the pandemic much more than the festivals they're aligned with, as they are more dependent on international guests. They also said there's a real drive in the industry to get back to physical events, and that they plan to do so in 2022, although they will continue to have some online elements.
"We could see from the summer and autumn markets that people really need this personal encounter and really want to do business on-site," said Ruh, who joined EFM in September 2020 and oversaw a fully virtual edition in February this year, ahead of a physical edition of Berlin film festival in June. "Of course we need some online components to reach people who are not able to come, but our main focus will remain the physical market."
Paillard said that in hindsight it was easier holding the Cannes Marche in a fully digital format last year, than going hybrid in July this year, but it still wasn't easy. "Our online conferences in 2020 were very successful, but it was the beginning of the online period so people had a lot of curiosity," Paillard said. "This year, the curiosity was gone and people were a bit fed up with watching conferences online. We need online but people really want to start getting together again."
He added that networking events don't really work in the hybrid format and this year Producers Network was held in two separate tranches – on-site breakfasts in Cannes and afternoon Zoom meetings to connect with North America.
As for the traditional business of film markets – the selling of film rights – the speakers acknowledged that the emergence of the streamers and other factors were having a huge impact on how business is being done, even before the pandemic, and this would inevitably alter how film markets operate and what services they offer in the future.
"Maybe even the model of sales companies' presence will change – I'm not sure they'll still need a very big office, apartment or booth," Paillard said. "They may reduce the number of people who travel, making the markets more concentrated, which could be good. There were less people in Cannes this year, but they all said it was much more comfortable. So perhaps the quality of encounters will be higher and more concentrated around the CEOs."
The speakers also agreed that being aligned with a major festival helps both attendance and sales business at their events. Cannes Marche in 2020 and EFM in 2021 both benefitted from having a festival 'official selection' announced just before their online markets, even though the films weren't screened for audiences until much later.
"But I'm not sure about the role of market screenings," said Ruh. "Because we see the focus right now is more about deal-makers meeting sales agents, and of course you already had this option of sending a screening link, so we may need to give more options of watching films online."
Oh acknowledged that while Busan's Asian Project Market has been a huge success, the sales side of the market had struggled to grow even before the pandemic: "When Busan started in 1996, we had no intention of running a film market, but finally realised it was necessary for better Asian films to be produced, and to support Korean films. That's why we started ACFM back in 2006, but we hit limitations as we began to develop, so we're now working on how to overcome those obstacles."
One option being mulled by Busan is to reposition its market as a platform for "Asian stories", so rather than being structured around specific formats, it would put the focus back on all kinds of source material, stories and creators.
Oh also called for collaboration between markets, especially in Asia, where film industries are at different stages of development and there are no regional film policies like in Europe. But he also suggested there could be more cooperation between markets in Europe and Asia.
Paillard mulled the possibility of a unified online platform to present projects that have been selected for the various projects markets. "Sometimes it's difficult to pick up the trace of a project six months later, the title may even have changed, so it could be an interesting tool although difficult to implement." Ruh explained that Berlin is already working with Rotterdam on the Reality Check conference which straddles both events.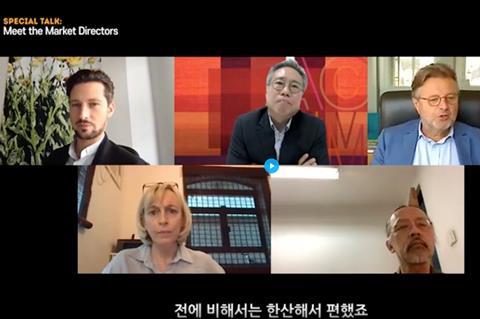 Industry support programmes
With the sales business and traditional forms of distribution under pressure, the market chiefs also talked about how their industry support programmes have become more important than ever.
All four markets operate co-production markets of varying sizes, but now have activities that go way beyond that – including platforms for trading book rights and other IPs; networking and training events for producers, directors and other creatives; as well as programmes that focus on technical innovation, documentaries and short films.
The European markets also have programmes focusing on diversity and inclusion – for example Cannes Marche recently introduced Impact in Cannes and Punto Genero at the Ventana Sur market in Buenos Aires.
Wong explained he's in a different position to the other speakers, as Hong Kong International Film Festival and its co-production market, Hong Kong Asia Film Financing Forum (HAF), do not operate a sales market, but run alongside one – Filmart, organised by the Hong Kong Trade Development Council. However, HKIFF has expanded its industry programmes over the past few years to also include HAF Film Lab, a script lab for young Chinese-speaking filmmakers; HKIFF Collection, which advises these filmmakers on festivals and sales strategy, and an initiative to co-produce six low-budget features with Hong Kong-based production outfit Heaven Pictures.
"We realise foreign sales may not be a money-making venture, but felt we should help young filmmakers understand what it's like to programme films outside this part of the world," Wong said. He added that the filmmakers participating in the works-in-progress section of HAF are these days more concerned with finding a festival slot than raising post-production finance, as they often come to the market with "99% finished films".
Embracing the streamers
Although the speakers shared many experiences, they all had slightly different strategies towards the growing influence of the streamers. While Berlin is already nine years into Berlinale Series, which offers conferences, pitch sessions and series for acquisition, Paillard said France is already well-served by several unrelated TV markets that also take place in Cannes. "And even if the relationship with Netflix is complicated, they still send a lot of acquisitions executives to Cannes," he observed. Filmart already has a large TV/streaming component, but Wong said HKIFF Industry doesn't work with episodic content as most mainland Chinese series remain domestically focused.
Busan is in the interesting position of being an arthouse-focused film festival in a territory which, even before Squid Game, had some of the world's most exportable series. In recognition of this, the festival has introduced both the On Screen section and Asian Contents Awards, although Oh said it was "important for BIFF and ACFM to maintain their identity and protect the traditional format of film." He added this was most essential when it came to protecting the status of producers and the fragile ecosystem of film distribution.
Ruh added that he's seeing more crossover between the worlds of film and streaming, at least in Europe. "When I went to Series Mania two weeks ago, I saw the same producers I knew from the arthouse world. Many German producers have learned that it's difficult to rely on arthouse film production, so had to diversify their portfolio by producing series. There's more security in getting your cheque from Netflix at the end."
But for now, it appears that film markets and their TV equivalents are still very separate events, and are likely to remain so, due to the different cultures of the industries and professionals they serve. And while film markets will embrace online elements, they're also not likely to become fully virtual events that take place beyond the timing of the festivals. Ruh said: "The role of film markets with festivals is to also create momentum for the sales business, so our goal needs to be to keep creating this momentum, with film markets happening at one time. At least, this is the feedback that we're receiving from the sales agents."