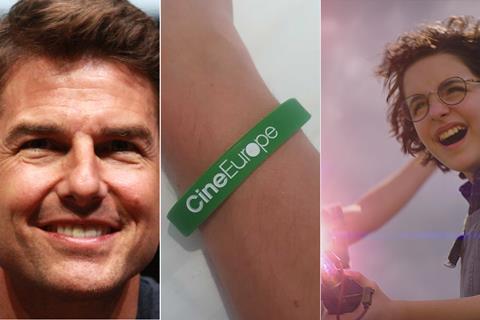 The Bond boost, Tom Cruise and supercharged slates were all hot discussion topics at CineEurope in Barcelona this week (October 4-7) – the first edition of the cinema operators trade show in over two years.
No Time To Die takes off
As attendees gathered in the lobby and on the trade floor of the Barcelona International Convention Centre (CCIB) on Monday morning, hopeful whispers quickly turned to joyous smiles as the outstanding first weekend figures of No Time To Die filtered through. The film's record-breaking £25.9m UK-Ireland opening led the way as one of 54 markets grossing a total of $119.1m, with the US (Oct 8) and China (Oct 29) still to come.
The news set the tone for a buoyant four days – while cinemas are by no means out of the pandemic woods, the Bond result at least sets them in the right direction with a packed schedule ahead (see below). It also allowed a measure of humour about the tough times that preceded the release. In Thursday's ceremony, Universal Pictures International's evp and managing director Niels Swinkels was introduced for his international distributor of the year award as "the only man to have released one Bond film six times" (in reference to the film's constant delays).
While Universal's presentation focused primarily on its upcoming slate, it did highlight the Bond numbers, and the figures were celebrated in just about every panel held across the week.
Accentuate the positive…
Attendees at the last CineEurope in June 2019 would not have expected to wait nearly 28 months for the next such gathering. Greetings were therefore a mixture of delight and pathos, with the emotion getting to more than one delegate. Attendance was at roughly 70% of the 2019 numbers – a similar percentage deficit to that experienced by Cannes Film Festival in July.
However, while the Palais trade floor in Cannes felt empty, in Barcelona there was a buzz as exhibitors tested the latest technologies and mingled at the café.
"The mood has in the main been one of extraordinary positivity, mixed with a definite sense of relief to once again be able to see and meet so many industry friends and colleagues," said Phil Clapp, chief executive of the International Union of Cinemas (UNIC), for which CineEurope is the official convention. "Key topics of discussion have been the future film slate – but perhaps more immediately what we know about those who have and have not returned since lockdown ended."
CineEurope will return to Barcelona in just nine months, from June 20-23, 2022; the sector will hope for no further significant obstacles before that event.
…but stay Covid cautious
Each event in 2021 has engineered its own process for improving Covid safety. For CineEurope, it came in the form of nifty rubber wristbands. These were given upon first arrival at the venue, upon presentation of vaccination status or recent Covid recovery, and required for entry to the trade floor and all screenings and events throughout the week.
The wristbands were offered in two colours: green, to show the wearer was comfortable with physical contact (ie. handshakes, hugs) in greetings; and red, for those preferring to keep a distance. Official statistics are not available but the overwhelming majority of those in the CCIB sported a green band, suggesting a general comfort among delegates. Masks were mandated in all indoor areas when moving around, while gaps of at least one seat were left in all auditoriums, including the main room where studio presentations were held.
Cruise in control
Studios have often brought talent to CineEurope to promote their fare, with past guests including Tom Hanks, Colin Firth and Zendaya. With Covid still complicating travel from North America, stars were in short supply in the first four presentations, with some providing video messages, including Benedict Cumberbatch, Kenneth Branagh, Baz Luhrmann and Jason Blum.
That all changed during the Paramount Pictures presentation, when executives Mary Daily and Mark Viane introduced Tom Cruise to promote Top Gun: Maverick and Mission: Impossible 7. With his attendance coming as a surprise, the actor received a rapturous reception from the hall, with exhibitors grateful for his continued support for the theatrical sector.
After rumblings of discontent about Paramount's decision to push its two tentpoles into 2022, an appearance from its main man will have gone some way to show the studio is still there for cinemas.
Whither Disney?
On the other hand, talent and executives from Disney were notable by their absence, both at the studio's presentation on Wednesday afternoon (Oct 6) and throughout the full event. This marked a change from 2019, when the company held a two-hour mega-show in its first CineEurope since acquiring 20th Century Fox, with highlights from the new member of the stable plus Marvel, Star Wars and Disney's own content.
This year, the studio played a reel of just a couple of minutes promoting its upcoming content, with no introduction, either in-person or by video, from the Disney team. It was left to Clapp to introduce the video, and the screening of Locksmith Animation's Ron's Gone Wrong.
Disney was the only studio to play two full films at this year's event, with a screening of Ridley Scott's The Last Duel the following day. However, the company's absence from the floor, especially after the two-year gap, left exhibitors disgruntled. Screen has reached out to Disney for comment.
The future is full
While titles including No Time To Die, Dune and Venom: Let There Be Carnage are starting to roll out around the world, studio slates are still rammed with films, giving exhibitors a far preferable problem to those of the past two years.
Warner Bros showed a first look at Baz Luhrmann's Elvis, plus BTS footage of the third Fantastic Beasts film The Secrets Of Dumbledore, including Mads Mikkelsen as Gellert Grindelwald in the role vacated by Johnny Depp. The studio also provided a look at Olivia Wilde's Don't Worry Darling starring Florence Pugh and Harry Styles, as well as playing a reel for its upcoming DC superhero titles including The Flash, Black Adam, Aquaman And The Lost Kingdom and The Batman.
An extended clip of Illumination's pandemic-delayed Minions: The Rise Of Gru featured in Universal's show, plus trailers for Ridley Scott's House Of Gucci, Paul Thomas Anderson's Licorice Pizza, Joe Wright's Cyrano and Ron Howard's Thirteen Lives, about the cave rescue of the young Thai football team. An unreleased trailer for Robert Eggers' The Northman led the studio's Focus Features section, plus a promo for Mrs Harris Goes To Paris with Lesley Manville and Isabelle Huppert, and Downton Abbey: A New Era.
Having broadly celebrated its acquisition of James Bond at the 2019 event, Universal was muted regarding Christopher Nolan's move to the studio from Warner Bros, only featuring his name briefly on-screen during a promo reel.
Sony played perhaps the buzziest full title with a screening of Jason Reitman's Ghostbusters: Afterlife, which releases in November, in addition to exclusive footage from Sonic The Hedgehog 2, and Morbius starring Jared Leto.
Studiocanal screened an exclusive trailer for Shekhar Kapur's What's Love Got To Do With It? starring Lily James, Shazad Latif and Emma Thompson, plus BTS footage of its latest Liam Neeson thriller Retribution.
Perhaps the most original moment in the slate presentations came from Russian production and distribution studio Central Partnership, which made headlines this week by sending director Klim Shipenko and actor Yulia Peresild into space for The Challenge, the first feature film shot partly in space. Despite only docking at the International Space Station hours before the presentation began, Shipenko and Peresild still managed to send a recorded greeting from their unprecedented location, plus a pre-recorded message.