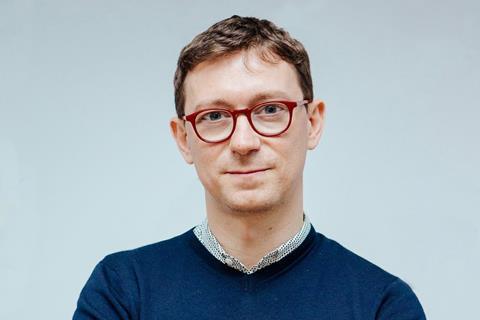 Paolo Moretti will step down as delegate general of Cannes Directors' Fortnight after its 2022 edition as part of a move to overhaul the 60-year parallel section, its organisers the French Directors Guild (Société des Réalisateurs de Films, SRF) announced on Wednesday.
"The board, elected in September 2021, wishes to thoroughly rethink the Directors' Fortnight, its name, its singularity and its strategic and militant position. As such, and in order to carry out this new project, it will soon be welcoming a new general delegate," the SRF said in a statement.
"The SRF salutes the work accomplished by Paolo Moretti since 2018, his commitment to films and filmmakers, the quality of his selections, his unfailing professionalism and his management of the particularly difficult period of the health crisis. The SRF reaffirms its confidence in him for the 2022 edition of the Directors' Fortnight, which is currently being prepared and will take place in May."
The body said recruitment of the new delegate general would take place in the run-up to the Cannes Film Festival in May, and that the new appointee would take office in November 2022 and oversee the 2023 edition. A call for candidates is due to go out shortly.
Italian-born Moretti was appointed to the role in September 2018, replacing Edouard Waintrop who oversaw the parallel sidebar from 2012-2018.
He was the first non-French national to head any Cannes section, having held roles as a programmer at festivals and film institutions across Europe. He was also one of the few programmers based in continental Europe with strong ties to the UK, having worked at the Leeds International Film Festival early in his career.
Moretti programmed his first edition in 2019 but was forced to abandon his 2020 line-up after the main Cannes Film Festival and all parallel sections were cancelled due to the Covid-19 pandemic.
Directors' Fortnight returned in 2021 for its 52nd edition to showcase 24 features and nine shorts, including Clio Barnard's Ali & Ava, Joanna Hogg's The Souvenir: Part II, Jean-Gabriel Périot's Returning To Reims, Europa, Futura, The Hill Where Lionesses Roar and Murina.
Moretti's tenure has had a mixed response from the French film industry. While he is respected by cinephiles, there have been grumblings from within the French sales sector that some of his selections have been too esoteric.
Directors' Fortnight was launched in 1969 in the wake of the political unrest of 1968 as an anti-establishment antidote to Cannes Film Festival's official selection and is now the biggest parallel section.
Past heads have included co-founder Pierre-Henri Deleau, Marie-Pierre Macia (the only female heads to date), Francois Da Silva, Olivier Père and Frédéric Boyer.