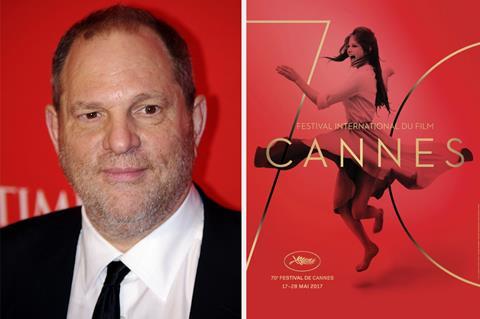 Cannes Film Festival top brass issued a statement on Wednesday in which they expressed "the clearest and most unequivocal condemnation" of Harvey Weinstein's alleged behaviour as it emerged the Academy Of Motion Picture Arts And Sciences board will meet on Saturday to address the scandal.
In other developments in what has become a daily torrent of statements and condemnations led by news that Bafta had suspended Weinstein's membership, actresses Léa Seydoux and Cara Delevingne have spoken of encounters with the disgraced former film mogul.
The Cannes statement issued by president Pierre Lescure and general delegate Thierry Fremaux read: "We have been dismayed to learn of the accusations of harassment and sexual violence recently levelled against Harvey Weinstein, a film professional whose activity and success are well known to all. They have led him to make frequent visits to Cannes over many years, with numerous films selected at the International Film Festival, at which he has been a familiar figure.
"These actions point to a pattern of behaviour that merits only the clearest and most unequivocal condemnation. Our thoughts go out to the victims, to those who have had the courage to testify and to all the others. May this case help us once again to denounce all such serious and unacceptable practices."
The Academy issued the following statement: "The Academy finds the conduct described in the allegations against Harvey Weinstein to be repugnant, abhorrent, and antithetical to the high standards of the Academy and the creative community it represents. The Board of Governors will be holding a special meeting on Saturday, October 14, to discuss the allegations against Weinstein and any actions warranted by the Academy."
Seydoux, the Palme d'Or-winning star of Blue Is The Warmest Color, wrote in a column in The Guardian how she was having drinks at a hotel with Weinstein when he invited her to his room.
"We were talking on the sofa when he suddenly jumped on me and tried to kiss me," Seydoux wrote. "I had to defend myself. He's big and fat, so I had to be forceful to resist him. I left his room, thoroughly disgusted. I wasn't afraid of him, though. Because I knew what kind of man he was all along."
The actress added later that she subsequently witnessed Weinstein trying his luck with other women in full view of observers. "That's the most disgusting thing. Everyone knew what Harvey was up to and no one did anything. It's unbelievable that he's been able to act like this for decades and still keep his career. That's only possible because he has a huge amount of power.
"In this industry, there are directors who abuse their position. They are very influential, that's how they can do that. With Harvey, it was physical. With others, it's just words. Sometimes, it feels like you have to be very strong to be a woman in the film industry. It's very common to encounter these kinds of men."
Cara Delevingne wrote in an Instagram post: "When I first started to work as an actress, I was working on a film and I received a call from Harvey Weinstein asking if I had slept with any of the women I was seen out with in the media.
"It was a very odd and uncomfortable call… I answered none of his questions and hurried off the phone but before I hung up, he said to me that if I was gay or decided to be with a woman especially in public that I'd never get the role of a straight woman or make it as an actress in Hollywood. A year or two later, I went to a meeting with him in the lobby of a hotel with a director about an upcoming film. The director left the meeting and Harvey asked me to stay and chat with him. As soon as we were alone he began to brag about all the actresses he had slept with and how he had made their careers and spoke about other inappropriate things of a sexual nature."
In other developments, Ben Affleck apologised on Twitter for an incident in 2003 whereby he groped the breast of Hilarie Burton as he hugged her during an interview slot on the show TRL. The matter resurfaced when Burton, who is married to to The Walking Dead star Jeffrey Dean Morgan, responded to a woman's tweet about the incident and said she had not forgotten it.
On Wednesday she referred to the incident when she took to Twitter praising the women who have come forward with stories about Weinstein. "I was a kid…Girls. I'm so impressed with you brave ones. I had to laugh back then so I wouldn't cry. Sending love."
Affleck replied on Twitter, "I acted inappropriately toward Ms. Burton and I sincerely apologize." The post came one day after Affleck issued a statement about Weinstein, with whom he has collaborated many times, most notably when he and Damon won the original screenplay Oscar for Good Will Hunting in 1998. The actor-director said, "This is completely unacceptable, and I find myself asking what I can do to make sure this doesn't happen to others. We need to do better at protecting our sisters, friends, co-workers and daughters. We must support those who come forward, condemn this type of behavior when we see it and help ensure there are more women in positions of power."
On Tuesday, Matt Damon responded to claims that he tried to stop a negative story about Weinstein running in The New York Times in 2004. The Wrap founder Sharon Waxman, then a reporter at the Times, said she had been working on a story (that was never published) about how Miramax Italy chief Fabrizio Lombardo allegedly procured women for Weinstein. Waxman said she received calls from Damon and Russell Crowe vouching for Lombardo.
Speaking to Deadline Hollywood on Tuesday, Damon said Weinstein had asked him to tell the reporter about his experiences working with Lombardo [Miramax's The Talented Mr. Ripley shot in Italy] which he did in a brief call, although he said he did not know the nature of the article Waxman intended to publish.
"For the record, I would never, ever, ever try to kill a story like that," Damon told Deadline Hollywood. "I just wouldn't do that. It's not something I would do, for anybody
In other Wednesday developments:
Ewan McGregor tweeted on Wednesday: "Weinstein. It's about time this came to light and he is getting [his] just deserts. Heard rumours over the years but this is awful. Bye Bully!"