Joachim Trier's family drama played in Competition at Cannes.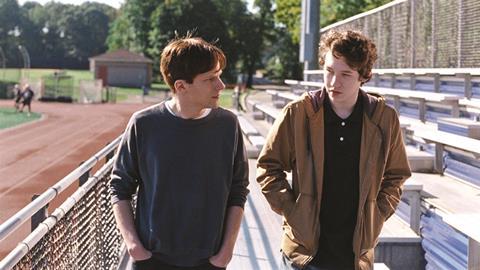 Louder Than Bombs, Joachim Trier's Palme d'Or contender, has now been sold to 92 territories by Memento Films International - making it one of Norway's best-selling dramas ever.
The film, starring Gabriel Byrne, Isabelle Huppert, Jesse Eisenberg and Devin Druid, marked the first time since 1979 that a Norwegian feature had played in Competition at the Cannes Film Festival.
Rights were snapped up by The Orchard for North America during the festival.
Memento has also now the film to the UK/Ireland (Soda Pictures), Germany (MFA), Italy (Teodora), Benelux (Remain in Light), Austria (Stadkino), Switzerland (Frenetic), Spain (Golem) and Portugal (Alambique).
For the Middle East, it sold to Falcon as well as to Greece/Cyprus (Seven Group), Turkey (Bir Film) and Israel (Lev Cinema).
In Eastern Europen, Louder Than Bombs sold to ex-Yugoslavia (Megacom MCF), Poland (Film Point Group), Hungary (Vertigo), Romania (Macondo) and the Baltics (Scanorama) as well as Russia/CIS (Provzglyad).
In Asia, it sold to Hong Kong (Golden Scene), China (Media Asia), South Korea (Green Narae), Taiwan (Maison Motion) and India (Picture Works), and made additional sales to Latin America (Sun) and Australia/NZ (Sharemil).
However, "there are still territories to be covered," according to Thomas Robsahm, who produced the English-language feature with Sigve Endresen and Joshua Strachan, for Oslo's Motlys.
"In Cannes, we celebrated with cast and crew; learned a lot from the film's first screening with an audience; and sold it to most of the world," said Robsahm.
The producer also revealed that Trier's next feature will be "in Norwegian and something totally new" from the director.
Louder Than Bombs
Co-written by Trier's long-time collaborator Eskil Vogt, Louder Than Bombs centres on the fractious family of a father (Byrne) and his two sons (Eisenberg, Druid), who confront their different feelings and memories of their deceased wife and mother, a famed war photographer (Huppert).
The Motlys production was shot in New York, co-produced by Alexandre Mallet-Guy of Memento Films, Denmark's Nimbus Film and US companies Animal Kingdom, Beachside Film and Bona Fide, and supported by the Norwegian Film Institute.
The feature will be distributed by SF Film in Norway this October.
Trier's previous films include his lauded debut Reprise, winner of Toronto's Discovery Award; and Oslo, August 31st, which screened in Un Certain Regard at Cannes 2011