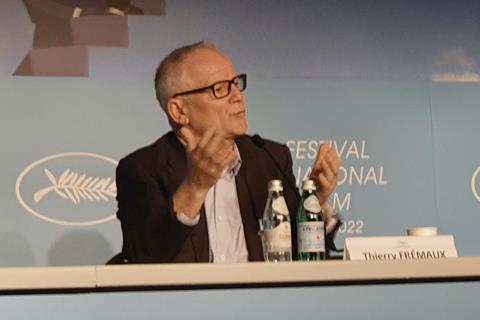 Thierry Fremaux, delegate general of the Cannes Film Festival, has defended the lack of diversity in the 2022 lineup, including the near-total absence of Black filmmakers in Official Selection and the relatively few women filmmakers in Competition.
"It takes time for cinema to come into its own," said Fremaux of the dearth of films by filmmakers from sub-Saharan Africa, at his pre-festival press conference.
He cited Un Certain Regard opener Father & Soldier as an example of a film from the region; the film is a France-Senegal co-production which shot in both countries. It is directed by Mathieu Vadepied, a white man.
"Prior to the political problems they encountered, there were other African countries that showed cinema is for them," said Fremaux. "It isn't just one edition; it takes five years, it takes a decade."
Special Screenings title Salam, co-directed by Anne Cisse, is the sole film by a Black filmmaker in the 70-strong Official Selection (not including Cannes Classics and Cinefondation).
Fremaux described French-Senegalese filmmaker Mati Diop as "the queen of Cannes in 2019", when she won the Grand Prix for Atlantics. "She is the spearhead of a new generation of directors from sub-Saharan Africa, which is closely linked to France," said Fremaux. "Every so often someone stands out and represents his or her country."
"Don't forget we're emerging from two years of a pandemic, and some countries were struck harder than others," added Fremaux, who noted that film production in France had been able to continue at a standard not possible in other territories. "Lets wait a bit before we draw conclusions."
In December 2021 Screen published a study of the previous three years, showing that Black filmmakers comprise just 1% of directors selected in main competitions at A-category festivals, with eight of 670 films. Four of those eight filmmakers debuted their films in Cannes.
Ukraine
In response to several questions about the festival's stance on Russian films in light of the war in Ukraine, Fremaux first referred to a statement issued by the festival in March, which said the festival "will not welcome Russian delegations nor accept the presence of anyone linked to the Russian government."
Of Kirill Serebrennikov's Competition title Tchaikovsky's Wife has been backed by Kinoprime, the private film fund owned by Russian oligarch Roman Abramovich, who has been sanctioned by many countries, Fremaux said the festival would only apply its rule to films shot after February 24, when the main Russian invasion of Ukraine began. "I get about five emails a day on that question… saying things that are quite violent," said the director. "No film has been produced since February 24 [has been selected]; it wasn't forbidden before February 24 that [Tchaikovsky's Wife] could get Russian money. The film had already been shot; so that is the rule we decided to follow."
The only exception to that rule was Mariupolis 2, the documentary that Lithuanian filmmaker Mantas Kvedaravicius was filming in the Ukrainian city before he was murdered by Russian forces on April 2.
India has been named a 'country of honour' at the 2022 festival, despite being one of the fewer major countries to maintain links with Russia. "We didn't keep a list of the films or countries which supported or didn't vote at the UN," said the director. "We have a different position from that of France or the European Commission. One might consider that you should sanction countries that support Russia – well no, we haven't gone that far."
Fremaux also responded to technical problems with the ticketing website that have caused consternation amongst attendees, revealing that the festival had problems with hacking last year, with robots requesting up to 500 tickets at a time.
He repeated his stance on the underrepresentation of women directors in the festival, saying "there is no rule or quota" on gender equality. He said he didn't think the total of five films out of 21 directed by women in Competition could be considered "so few"; and that the festival was proud to have given several major awards at last year's event to women, including the Palme d'Or, Camera d'Or and Un Certain Regard award.