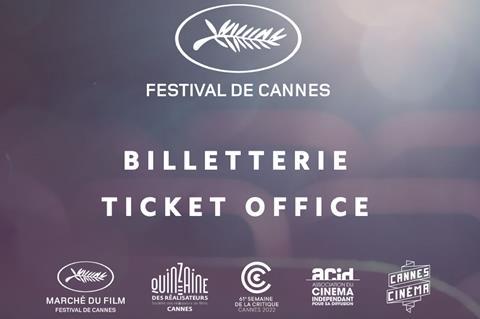 Ticketing and badge collection problems are causing consternation among attendees at Cannes, the day before the festival officially opens.
Dozens of journalists and other industry professionals have taken to social media to express their frustration with the unavailability of the ticketonline.festival-cannes.com page, through which tickets for both press and public screenings are accessed.
"It's fair to say the Cannes online ticketing system is a shambles wrapped inside a clusterfuck wrapped inside an enigma," wrote journalist Martyn Conterio, who later posted an image of the server error page that appeared when trying to access the site.
Tickets are made available at 07.00 CEST five days in advance of a screening (eg. at 07.00 on Tuesday 17 for all screenings on Saturday 21).
Vienna-based journalist Marina D Richter told Screen she had not been able to access the site and was worried about meeting her deadlines. "I am fuming," she said. "I have no idea how everything I was supposed to do will be done."
"The ticketing system is causing a lot of stress, as it keeps crashing and it's not clear what the availability of screens are before they crash," said UK journalist Kaleem Aftab. "When the website is down because too many people are using it, and I've been getting up at 6am to get on, then frustration overflows."
"I faced a crashed/overloaded website, or many 'troubleshooting' [pages]," said French journalist Alex Masson, who spent two and a half hours trying to access the site, only to receive 'site unavailable' messages once he did. "The same conditions were faced during the first days last year, so it's a bit puzzling that festival organisation didn't consider it may happen [again], especially when the number of accredited persons could be expected to be back to normal."
"With a result of one or two tickets granted per day, and not for the films my publication asks for, it makes it quite difficult to organise a daily report," he continued. "This will be counter-productive with lesser coverage, and bad buzz on this awkward organisation."
Masson was one of several journalists to report that the badge collection system at the Gare Maritime had crashed, meaning accredited guests could not collected the passes they require to enter festival venues.
A festival representative said "Since Sunday May, 15th, festival-goers have met connexion issues when login to our ticketing website. Following an unusually high number of logins (five times higher compared to 2021), the technical department is working hard to resolve this issue. Despite these technical problems, the ticketing system has registered more than 35,000 bookings over the first 3 days."
Solutions
The journalists had several suggestions for how the process could be improved. "It seems odd that there are not different times that people with different priorities can book," added Aftab. "Saving seats and releasing them later just means that some films that are perhaps not full seem full, and makes people book other tickets they might not want."
"Why not anticipate a bigger scaling for this website?" said Masson. "Or suppress totally the priority by colour badges still used even in electronic booking."
Most were sanguine about the situation. "It's been a bit of a disaster and I can understand everyone getting riled," said UK journalist John Bleasdale. "But the good news is we're all in the same boat and the better news is the boat is on the Cote d'Azur so I'm not going to complain too loudly."
As of 12:45 CEST when Screen tried the ticketing site, it seemed to be working again.