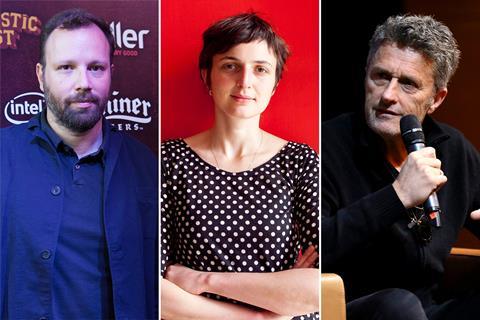 A prestigious gender-balanced group of jurors will join previously announced president Alejandro Gonzalez Iñárritu on the Cannes Film Festival's Competition jury.
Joining Iñárritu on the panel are filmmakers Paweł Pawlikowski (Poland, pictured at right), Yorgos Lanthimos (Greece, pictured at left), Kelly Reichardt (US), Alice Rohrwacher (Italy, pictured centre), and Robin Campillo (France), as well as actor Elle Fanning (US), actor-director Maimouna N'Diaye (Burkina Faso), and graphic novel author and director Enki Bilal (France).
Pawlikowski's Cold War screened in Competition last year when it earned the best director prize, and went on to receive foreign language and directing Oscar nods earlier this year. The Polish-born auteur won the foreign language Oscar for Ida in 2015. Four-time Oscar nominee Lanthimos's second film Dogtooth won the Un Certain Regard Prize in Cannes 2009, and jury prize-winner The Lobster played in Competition in 2015. Competition selection The Killing Of A Sacred Deer shared the best screenplay prize in 2017.
Reichardt brought Wendy And Lucy to Cannes Un Certain Regard in 2008 and is in post-production on First Cow. Rohrwacher's first fiction feature film Heavenly Body screened in Directors' Fortnight 2011 and won the Nastro d'argento. She won the grand prix for Competition entry The Wonders in 2014, and earned the best screenplay award on the Croisette last year for Happy As Lazzaro.
Campillo's 120 BPM (Beats per Minute) was one of the hits of Cannes 2017 and won the grand prix. He shared a screenwriting credit for 2008 Palme d'Or winner The Class, which also won a César Award for best adaptation in 2009.
Fanning starred in Iñárritu's 2006 Cannes selection Babel, and returned to the Competition in 2016 with The Neon Demon by Nicolas Winding Refn, and again in 2017 with The Beguiled by Sofia Coppola. N'Diaye's roles include Eye Of The Storm, Bol d'amour, Gardens In Automn, A Woman Like No Other, and recently Ca Tourne à Ouaga. Yugoslavia-born Bilal is the author of more than 30 albums of novel graphics and books and has directed three films: Bunker Palace Hotel (1989), Tykho Moon (1996), and Immortal (2004).
Pierre Lescure and Thierry Frémaux said, "The Cannes' Jury is invited to see films directed by the greatest filmmakers of our time – which is the case again this year. Everyone of the directors being part of the competition also has to know they will be considered by strong artists – which is also the case!"
The jurors will announce prize-winners on May 25 during the closing ceremony. Cannes takes place from May 14-25.