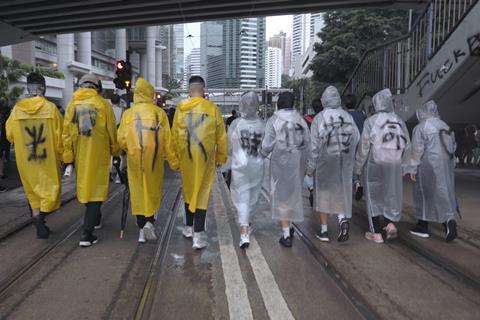 The Cannes Films Festival (July 6-17) has announced the addition of a "surprise documentary" to its 2021 line-up, Hong Kong filmmaker Kiwi Chow's hard-hitting work Revolution Of Our Times charting the territory's 2019-2020 protests.
Cannes has kept the documentary's selection under wraps until now, for the safety of Chow, whose current whereabouts is unknown to the festival.
It will play on Friday (July 16) in a special screening.
"I want to express my heartfelt gratitude to Cannes," said Chow. "Hong Kong has been losing far more than anyone has expected, this good news will be a comfort to many Hongkongers who live in fear; it also shows that whoever fights for justice and freedom around the world, are with us! And Hongkongers are staying strong!"
Chow's previous works include the 2015 anthology film Ten Years: Self Immolator, which also explored the erosion of human rights and freedoms as the Chinese government takes greater control of Hong Kong. It was a hit at the local box office and was then acquired by Netflix.
It was banned from state television channels and its nomination in the 35th edition of the Kong Kong Film Awards saw the ceremony taken off the air. It went on to win best film.
Known also as the Anti-Extradition law Amendment Bill Movement, the 2019-2020 protests were sparked by the Hong Kong government's move to amend extradition laws, which have allowed for the easy transfer of Hongkongers to mainland China.
Many Hongkongers perceived it as an attempt by China to erode the "one country, two systems" principle at the heart of the 1997 handover treaty between the UK and China.
Revolution Of Our Times gives both a macro overview of the events surrounding the protests, explaining both their geopolitical and historical context, and also presents an up-close and personal picture of protesters on the frontlines of the demonstrations.
Capturing the decentralised nature of the movement, which at its peak brought two million of the territory's seven million residents onto the streets, Chow follows seven teams of protestors with different stories to build a wider picture of the movement.
It captures key moments such as the storming of the Legislative Council, the clashes between students and police at Hong Kong Polytechnic University and the 2019 Yuen Long attack, in which gangsters attacked protestors.
Key figures include a 73-year-old farmer who was one of the elderly founders of the Protect The Children group, an online journalist who is now famed for her live-streamed reports, and a number of high-school students and people in their 20s who were on the frontline, some of whom have now gone underground or left Hong Kong altogether.