Whole market suffers due to the good weather, but Disney retains the top two spots for second week in a row.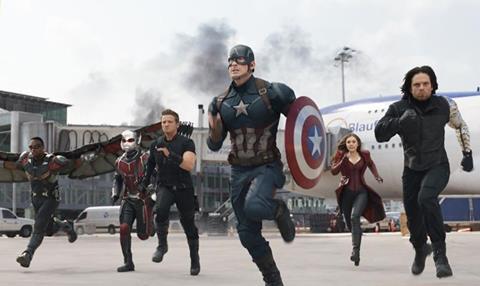 UK TOP FIVE
| Ranking | Film/Distributor | Weekend gross | Running total |
| --- | --- | --- | --- |
| 1 | Captain America: Civil War (Disney) | $6.9m (£4.8m) | $39.4m (£27.4m) |
| 2 | The Jungle Book (Disney) | $3m (£2.1m) | $53m (£36.8m) |
| 3 | Bad Neighbours 2 (Universal) | $2.4m (£1.69m) | $2.4m (£1.69m) |
| 4 | Florence Foster Jenkins (Fox) | $1m (£710,741) | $1m (£710,741) |
| 5 | Robinson Crusoe (Studiocanal) | $831,000 (£575,321) | $831,000 (£575,321) |
DISNEY
Not even superheroes can defy the sun at the UK box office.
Disney's Captain America: Civil War posted a hefty 67% as it retained the top spot with a $6.9m (£4.8m) second weekend. By comparison, Batman v Superman fell 68%, Avengers: Age Of Ultron 52% and Avengers 49%.
Civil War stands at $39.4m (£27.4m) after ten days in play and is already the fifth biggest Marvel outing, with Guardians Of The Galaxy's $41m (£28.5m) to be overtaken shortly.
Marvel's latest will hope to rebound this coming weekend with a minimal drop, especially with the arrival of a fellow superhero heavyweight in the form of X-Men: Apocalypse on May 18.
Also for Disney, The Jungle Book experienced its first big drop, falling 63% on its way to a $3m (£2.1m) fourth weekend for a superb $53m (£36.8m) to date.
The live-action remake is set to become the biggest film of 2016, currently Deadpool's $54.5m (£37.87m), in the coming days.
Zootropolis hopped to an extra $252,000 (£175,000) for $33m (£22.9m) after seven weeks in play.
UNIVERSAL
Bad Neighbours 2 was also arguably hit by the weather on its UK debut.
Universal's comedy sequel partied to a $2.4m (£1.69m) bow from its 491 sites to chart third, posting a site average of $4,954 (£3,443).
That is less than half the opening $5m (£3.49m) Fri-Sun tally of Bad Neighbours as part of an overall debut of $12.4m (£8.64m) from 506 sites, with the film going on to take an impressive $23m (£16m).
This coming weekend will give a clearer indication if people stayed away because of the weather or out of apathy.
FOX
Florence Foster Jenkins recorded director Stephen Frears' fourth-best UK bow as it charted fourth.
The Pathe release (distributed by Fox in the UK) opened with a non-final $1m (£710,741) from its 559 sites, including around $188,000 (£130,000) in previews.
Like with the rest of the market, the weather would have impacted the film, but it will hope to record healthy midweek grosses given its older-skewing audience.
Also for Fox, Secret Cinema's production of 28 Days Later… added $225,000 (£155,944) for $1.1m (£733,705) to date. With three weeks left of its run, it will hit £1m.
Demolition fell a hefty 83% with a $57,000 (£39,126) second weekend for $695,000 (£480,931) to date. It will finish its run as one of director Jean-Marc Vallée's lowest UK performers.
Alvin And The Chipmunks: The Road Chip and Kung Fu Panda 3 stand at $23.9m (£16.57m) and $19.7m (£13.64m), respectively.
STUDIOCANAL
Rounding off this week's top five was Studiocanal's Robinson Crusoe with a $831,000 (£575,321) UK debut.
More than half of its opening result came from last weekend's previews of $519,000 (£359,314), which pushed it ahead of Vincent Kesteloot and Ben Stassen's last directorial outing, Sammy's Adventures 2.
Also for Studiocanal, Bastille Day stands at $2.7m (£1.84m) following a $114,000 (£78,621) third weekend, while Knight Of Cups could only manage a $15,000 (£10,323) UK bow from its 11 sites.
EONE
In its fourth weekend, eOne's Eye In The Sky added $282,000 (£195,958) for a $6.2m (£4.3m) to date, and will still hope to hit the £5m after strong midweek performances.
WARNER BROS
Soon to log out of the chart, Warner Bros' Friend Request could only scare up $92,000 (£64,000) for $2m (£1.36m) after three weeks in play.
Also for Warner Bros, Batman v Superman: Dawn Of Justice stands at $52.6m (£36.58m), and won't catch Deadpool barring an unlikely late surge.
CURZON ARTIFICIAL EYE
In its second weekend, Curzon Artificial Eye's Son Of Saul (released through Lionsgate) added $69,000 (£47,542) for $484,000 (£335,416) to date.
LIONSGATE
Released on behalf of Vertigo Films, Lionsgate's Ratchet And Clank took $62,000 (£42,856) for $489,000 (£339,567) after ten days in play.
Also for Lionsgate, Eddie The Eagle has now amassed $12.3m (£8.52m).
METRODOME
From its 15 sites, Metrodome's Evolution posted a non-final UK bow of $25,000 (£17,431), including previews, with $8,300 (£5,734) taken over Fri-Sun.
SONY
Struggling on its UK bow, Sony's Hank Williams biopic I Saw The Light grossed $24,000 (£17,000) from its 107 sites, marking a weak $229 (£159) site average.
UPCOMING RELEASES
This week sees saturation releases for Sony's The Angry Birds Movie, Studiocanal's Our Kind Of Traitor and Paramount's Whiskey Tango Foxtrot.
eOne's Everybody Wants Some!! and Altitude's Green Room both receive wide releases, while Universal's The Darkness and Curzon Artificial Eye's Mustang are among the films receiving a limited release.