EXCLUSIVE: Carnaby has nabbed rights to popular UK children's brand.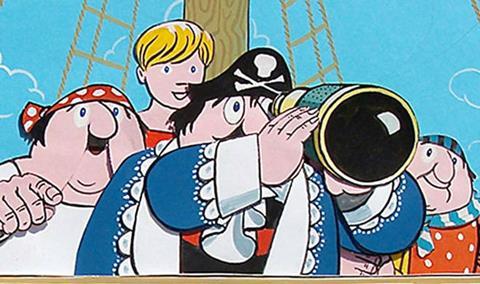 Carnaby International has acquired the worldwide sales rights to popular children's brand Captain Pugwash which will set sail next year as a live-action, family comedy-adventure.
The deal was brokered by Carnaby International's joint CEO, Sean O'Kelly, together with Elliot Jenkins of Atticus Pictures.
With cast set to be announced imminently, the live-action feature tells an origins story that is set in the Golden Age of Piracy.
Cowardly con-artist Pugwash is put on a ship to Botany Bay but soon escapes and has the good fortune to find himself at the helm of The Black Pig on a mission to rescue Cabin Boy Tom's father who has been marooned on a volcanic island with a hoard of treasure protected by an army of angry ghosts. And if this didn't make things difficult enough for our diminutive hero, Pugwash soon finds he has the infamous pirate Cut-Throat Jake hard on his tail.
Directed and written by Berlin Bear and two-time Emmy award winner John Hay (Stig of the Dump) the live-action feature film will be produced by BAFTA-nominated and Emmy-award winning producer Elliot Jenkins (Skins).
Created by the late John Ryan in the late 1950s, Captain Pugwash has spawned hundreds of episodes of animated cartoons and two dozen books.
Producer Elliot Jenkins says: "Just as Paddington refreshed a much-loved British brand without losing its charm we're going to do the same albeit with a bit more of a mischievous indie spirit.
"We want everyone to leave the cinema with a big grin not least the parents who we are going to target with a few gags that might fly over their kid's heads but will really land with them."
Sean O'Kelly, CEO of Carnaby International, added: "Having grown up in a golden age of animation with brands such as Dr Snuggles and Garfield, which I also worked on, I immediately recognised the tremendous worldwide potential for a live-action Captain Pugwash and we are delighted to be working with such a talented team on a fresh, exciting re-boot of such an iconic title."