Prize gives film-maker £30,000 ($45,000) and open access to Wellcome Trust scientists and research.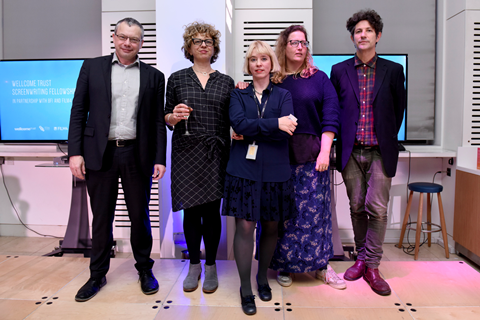 Carol Morley, writer-director of The Falling and Dreams Of A Life, has been named as the recipient of the 2015 Wellcome Trust Screenwriting Fellowship, in partnership with BFI and Film4. Morley receives an award of £30,000 ($45,000) together with access to Wellcome Trust's world-renowned scientists, labs and research.
Morley follows in the footsteps of previous Fellowship recipients Clio Barnard (2013) and Jonathan Glazer (2014).
Receiving her award at the annual party at the Wellcome Collection, Morley said: "The Fellowship is a dream come true. As well as continuing my interest in aberrations of human behaviour that stem from the mind or the brain, I am looking forward to exploring new areas and stepping into the unknown.
"This Fellowship will have a significant and lasting impact on the way I see the world and on my future films."
Now in its third year, the initiative was launched by the Wellcome Trust, BFI and Film4 to "nurture enquiring minds and unique voices and bring the worlds of film and science closer together".
The Fellow is selected by a panel comprising story editor Kate Leys; Simon Chaplin, director of culture and society at the Wellcome Trust; the BFI Film Fund's Lizzie Francke; and Film4's senior development editor Eva Yates.
Speaking at the event, Francke said: "Carol's extraordinary body of work demonstrates her fascination with the human condition.
"Time and again she has shown a deep compassion for our flaws and wonderment at the strength of our humanity. We can't wait to see how this year will help provoke and inspire the next steps on Carol's creative journey."
Film4's head of creative Rose Garnett praised Barnard, Glazer and Morley as "perfect recipients of this one of a kind opportunity – all three film-makers of real vision and curiosity."
Passing the mantle to Morley, Glazer thanked Wellcome for "such a unique opportunity… The fellowship has exposed me to a diversity of brilliant people. Scientists, doctors, historians, curators, researchers and archivists whose knowledge has helped transform my understanding of the film ideas I'm developing."
Several hundred industry attendees were on hand to witness Morley receive the Fellowship. The evening's theme was Contagion and guests were treated to vodka cocktails in syringes upon arrival, and a swab they were asked to wipe against any surface (or person) before the end of the evening and hand in for ongoing research to find the next generation of antibiotics.