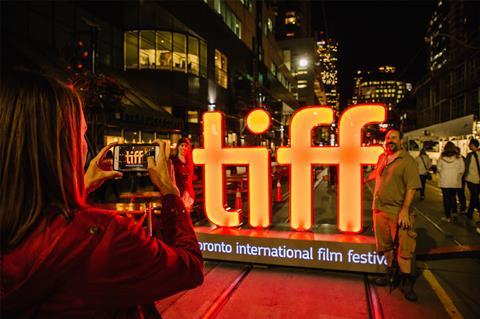 As the industry prepares to descend virtually on Toronto after a warmly received physical Venice, a sense of cautious optimism cannot hide ongoing concern in the most turbulent year anybody can remember.
TIFF is staging a hybrid festival comprised of indoor and outdoor screenings for attending audiences; a geo-blocked digital platform showing festival films and events only within Canada; and an online-only press and industry presence.
Drive-ins have enjoyed a resurgence over the summer and the format has become another resource for sales companies.
Screenings of TIFF selections are also being offered to press and industry in the US and Endeavor Content is screening Concrete Cowboy and Shadow In The Cloud in LA on Thursday night, and Penguin Bloom on Friday. Searchlight Pictures is staging a drive-in screening of the Frances McDormand awards hopeful Nomadland on Friday, the same day it receives its Canadian premiere at TIFF Bell Lightbox.
And while the drastically slimmed-down selection of some 50 films may contain relatively few awards season heavyweights from the studios and streamers – Searchlight Pictures' Nomadland and Amazon Studios' One Night In Miami are early standouts – there is still plenty to tempt buyers looking for finished films to fill slots in late 2021 and 2022.
Among the showcase festival titles with rights up for grabs are drama Good Joe Bell starring Mark Wahlberg (Endeavor Content), true-life family drama Penguin Bloom (Endeavor Content) with Naomi Watts, and feature directorial debuts from renowned actors: Halle Berry's work-in-progress MMA drama Bruised (Sierra/Affinity for international, and Endeavor Content for US) and David Oyelowo's family story The Water Man (Endeavor Content and CAA).
"The finished film market is hot," notes Kristen Konvitz of ICM Partners. Case in point – One Night In Miami. The agency showed buyers 30 minutes of footage in July on a Wednesday and received multiple offers from distributors. By Saturday Amazon Studios had snapped up Regina King's feature directorial debut.
"Everyone is telling me they need films for early next year," agrees Gabrielle Stewart, managing director of London-based HanWay Films. "They are telling me it would be a shame to have to rely on lots of local films. We need those big international films for us to release in our cinemas and keep cinemas full of a diversity of films."
Stewart says she is doing most of her sales meeting this week in order to have the weekend to engage with the festival. After selling out all territories on Paul Schrader's The Card Counter following an "event-ised" presentation at the virtual Cannes market in June, the company staged an as-live presentation for Bryan Fogel's Sundance documentary The Dissident, about the murdered Saudi journalist Jamal Khashoggi, for European and Asian buyers this Monday. UTA has already sold US rights to Tom Ortenberg's Briarcliff Entertainment.
But Stewart is mostly using this time as she normally would; to talk to buyers about the projects HanWay will have at the AFM. They include recent acquisition A Banquet, a psychological horror starring Sienna Guillory by first-time UK director Ruth Paxton which only recently wrapped.
"Genre films are ideal to shoot right now as they are quite contained and they don't need big stars so it's a good place for new talent to come through," Stewart suggests. "It's also a good time for indie genre films as I keep hearing from distributors that what they need more than anything right now are family films and genre films. Those are normally supplied by the studios. But the studios have gone quiet."
"It's actually quite surprising how much product there is out there based on what we've gone through in the last six months," notes Bill Bromiley of US distributor Saban Films.
September optimism
TIFF is not a significant pre-sales major market and buyers and sellers will be holding back somewhat for the last major trading post of the year at the virtual AFM. Yet September is always a time for opportunism and sales packages have been trickling in.
STXinternational has a bumper slate with Miramax action thriller Five Eyes from Guy Ritchie starring Jason Statham; war epic Devotion with Jonathan Majors that Sony has already acquired for the US; and Joe Carnahan action thriller Copshop with Gerard Butler and Frank Grillo.
Also on offer will be Ed Zwick's romantic comedy The Making Of starring Richard Gere, Diane Keaton, Blake Lively, and Lin-Manuel Miranda, which Endeavor Content represents for the world, and AGC International launches pre-sales on Donnie Yen, Alec Baldwin and Frank Grillo English-language thriller The Father.
"I don't think we're approaching [TIFF] in a different way," says Alex Walton of Endeavor Content. "It's a very difficult year for obvious reasons but TIFF is when everyone returns from summer holidays and therefore there has been a slower patch. There's a handful of pre-sales opportunities that pop up and this year could well be the same.
Dave Bishop, CEO of the UK's Protagonist Pictures, says it is business as usual for the company. "Despite the changes, we have another busy TIFF planned for this year."
Protagonist has Ben Sharrock's Cannes 2020 label title Limbo premiering in official festival selection (Mubi has just bought UK and Ireland rights), while Argyris Papadimitropoulos's Monday, starring Sebastian Stan and Denise Gough, is part of TIFF Selects. Protagonist is also talking to buyers about Brady Corbet's The Brutalist, starring Joel Edgerton, Marion Cotillard and Mark Rylance. The producers are hoping to shoot in Poland in January 2021.
"Hoping" is the key word here. Production has resumed in pockets around the world but regional spikes and individual cases of infection on productions means uncertainty and further disruption will continue until there is a widely available vaccine, possibly no earlier than mid-2021.
Insurance remains a major obstacle to restarting production in the US unless a project is backed by a streamer, studio or financier willing to self-bond and self-insure. The latter was the case with the summer shoot in Los Angeles on Invisible Narratives' Songbird that sold to STX for North America and the UK.
Despite ongoing public and back-channel efforts, the US government looks unlikely to fund an insurance backstop to provide Covid-19 coverage as governments in the UK, France, Canada and other territories are doing.
"It's going to be a problem until there's a vaccine or backstop for banks to be able to unlock their financing," says Michael Heimler, head of production and finance at Black Bear Pictures. "It's [financing] what holds up the indie film world."
"We're looking at packaging and trying to supply content to be ready to go most likely outside the US unless circumstances allow it to happen here," says Deb McIntosh of Endeavor Content. "We're trying to figure out our own bonding and insurance situation – the streamers are most likely to be doing their own bonding.
"It's critical for us to be in production and we have looked at all the options in TV and film," notes Walton. "[Hulu show] Nine Perfect Strangers is shooting in Australia and moved there [from California] in order to progress. We're looking at whatever options we have. We're lucky in that we didn't have any films shut down."
All this means despite vague announcements of production starts in the run-up to events like TIFF, there are not enough completed films to fill every independent distributor's roster, especially when the streamers and studios have been getting their wallets out.
"One of the big concerns is people have is maintaining a constant supply of films," says FilmNation founder and CEO Glen Basner, whose company began talks with buyers in Venice on out of competition selection The Human Voice, Pedro Almodovar's 30-minute short that marked his first film in English.
"Films haven't been in production for the last five months and a lot of movies have been picked up by studios and streamers for the world.
"Despite the challenges, people want us to find and create more movies and we saw that in virtual Cannes," added Basner, who said production on George Miller's Three Thousand Years Of Longing is scheduled to start in Australia later this year. "That was a really healthy market across the board. It was vibrant. That tells you where distributors are in a post-vaccine world."
AGC Studios head Stuart Ford and his senior sales team expect to announce one sales title for TIFF and will proceed without Michael Rothstein, Ford's longtime president of worldwide distribution, who has left the company and taken a step back from the industry for personal reasons.
Ford's AGC Television is in production in the UK on TV series War Of The Worlds (with Canal+ and Fox Networks) and is lining up an October start of principal photography in Montreal on its Roland Emmerich sci-fi Moonfall.
The company is also preparing to shoot Pierre Morel's The Blacksmith in Bulgaria in November. Eiza González (Baby Driver, TIFF selection I Care A Lot) has joined Nick Jonas and Laurence Fishburne on the cast.
AGC is working out how to proceed with supernatural thriller Geechee starring Andrea Riseborough after it suspended production in Dominican Republic and flew cast and non-local crew home. The move came after an incident involving undercover agents that resulted in the mistaken identity shooting of a crew member who was part of a scouting convoy. The injured crew member was treated at hospital and is out of danger.
When the production momentum does eventually pick up there will still be a time lag. "Once we start getting productions off the ground again, it's still going to be another 12 to 18 months of production and incubation until those products are finished and completed and deliverable," says Brian Beckman of Arclight Films, which is launching TIFF sales on the coming-of-age drama Chasing Wonders starring Paz Vega and is in the fortunate position of having completed content ready to unveil at AFM and MIPCOM.
"If we, say, start production on what's theoretically January 1, you're probably not going to see new product until you get into 2022," he says.
The theatrical question
2020 is the year exhibition will want to forget and the status of theatrical distribution will come under scrutiny when buyers and sellers sit down for talks and negotiate release models and bonuses.
Buyers, hurting like everybody else, are still paying MGs, says Endeavor's Alex Walton. "There have been conversations around releasing patterns domestically and those conversations have to be fleshed out now. There's certainly a need for content and it's positive there have been healthy signs in a number of markets of people returning to cinemas."
"I haven't given up on theatrical. Theatres are coming back," says Shivani Rawat of ShivHans Pictures, which fully financed Oyelowo's The Water Man. "I'm thankful we work in an industry that hasn't given up and we have digital platforms and I'm loving the content I've seen on Apple, Amazon and Netflix. Whatever is the perfect home for The Water Man, I would accept it."
"We want to have a distributor that supports the movie in a way that puts it in front of as many people as possible," says Black Bear's Heimler, which fully financed TIFF selection I Care A Lot starring Rosamund Pike. "It could be theatrical, it could be streaming." STXinternational is selling international territories and CAA represents the US.
Producer Bruna Papandrea, currently shooting Nine Perfect Strangers in Byron Bay, Australia, is hoping for "some kind" of theatrical experience for her Naomi Watts drama and TIFF selection Penguin Bloom. She believes nothing can replicate the theatrical experience, although she too is open to alternatives.
"It depends on the movie," Papandrea says. "This is one that thematically is so timely and resonant and I'm really excited that maybe you can give that to people in their living room."