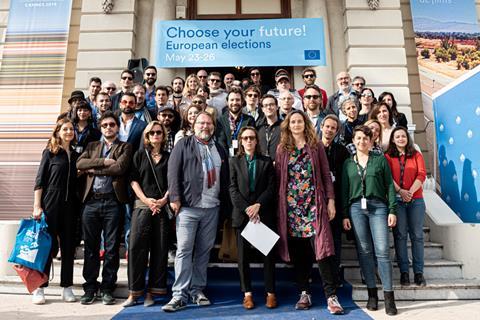 Palme d'Or contenders Celine Sciamma and Luc and Jean-Pierre Dardenne, Academy Award-winner Pavel Pawlikowski and UK filmmakers Stephen Frears and Susanna White are among some 500 filmmakers uniting in an appeal for people to vote in European Union parliamentary elections, running from May 23 to 26.
Taking place every five years, the EU's parliamentary elections are one of the largest democratic elections in the world, with more than 400 million people across 28 countries eligible to vote for 751 MEPs.
This year's elections have been given fresh impetus by the rise of populist, anti-EU parties across Europe, which are expected to make strong gains.
The filmmakers' joint appeal was launched at the Cannes Film Festival on Tuesday, on the steps of the La Malmaison headquarters of Directors' Fortnight.
Sciamma, who is in Cannes this year with hot Palme d'Or contender Portrait Of A Lady On Fire, and Croatian director Hrvoje Hribar read out a joint statement surrounded by other filmmakers at the festival.
They highlighted the fact that although the European Union was "hardly perfect" its founding premise of uniting for peace remained as valid today as it was when the organisation was first created in the 1950s, in the aftermath of World War Two.
"What started as a union of six countries has now grown to include 28 countries in a unique alliance that is inspiring for all of humanity," read the statement.
"This Union was built on the principles of open borders, free circulation, fraternity, solidarity, values that are today under attack on all fronts, including from within Europe itself."
The filmmakers highlighted the role the European Union had played in supporting culture, innovation and creation.
"A free and democratic Europe is a Europe of creativity, freedom of thought and expression. As we are facing extremism and backward tendencies, once again spreading like a plague, it is our duty to stand up for these values."
"We must reply by standing firmly for what we believe in, in this battle of ideas. From May 23 to 26, for the European elections, we will therefore vote.
It is our common future that is at stake, if not our future itself."
In a separate initiative connected to the upcoming EU elections, the International Documentary Festival Amsterdam (IDFA) has made Hungarian filmmaker Eszter Hajdú's feature-length documentary Hungary 2018 available to view on it platform in agreement with the director.
Shot undercover in the lead-up to Hungary's 2018 presidential elections, it uncovers the tactics used by Viktor Orbán and his right-wing populist Fidesz party to hold on to power.