EXCLUSIVE: Paris-based company to launch sales on Sundance title during Cannes.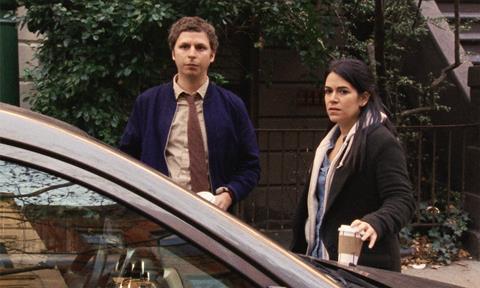 Paris-based Celluloid Dreams has taken on world sales of writer-director Dustin Guy Defa's off-beat comedy Person To Person following a number of New Yorkers over the course of one day.
Described as a love letter to New York, the film follows four slice-of-life stories set in Manhattan, Brooklyn and Queens, involving a record collector, his heartbroken room-mate, a teenager accompanying a friend on a date and a rookie reporter sent to cover a murder case.
The ensemble cast features Michael Cera, Abbi Jacobson, Philip Baker Hall, Michaela Watkins, Tavi Gevinson, Olivia Luccardi, Ben Rosenfield, George Sample III, and newcomer Bene Coopersmith.
It is Defa's second film after his 2012 work Bad Fever.
The new work grew out a short film of the same name which premiered at Sundance in 2014 and also screened at SXSW, AFI Fest and the Berlin Film Festivals, where it won won the DAAD Short Film Award.
Person To Person also premiered at Sundance and was recently the closing film of New Directors/New Films 2017, a joint venture between the Museum Of Modern Art and the Film Society Of Lincoln Center.
The deal was negotiated by Celluloid Dreams president Hengameh Panahi with UTA Independent Film Group on behalf of the filmmakers.
Celluloid Dreams will kick off sales on the feature at Cannes.
"We couldn't be more excited to have Hengameh's enthusiasm and her reputable team at Celluloid Dreams help us find our international audience" said director Defa.
Panahi added: "Finding smart comedies is the hardest challenge. Finding American young talented auteurs to promote internationally is an equally tough achievement. Here we found both and are so excited to join the amazing producers surrounding Dustin for a long collaboration."
The Celluloid Dreams acquisition comes just days after the title was acquired by Magnolia Pictures for North America.
Sara Murphy produced the film along with Toby Halbrooks and James M. Johnston with Allison Rose Carter and Jon Read on board as co-producers.
The film was executive produced by Joe Swanberg, Eddie Linker, Peter Gilbert of Forager Films as well as Michael Sherman and Matt Perniciaro of Bow and Arrow Entertainment, in association with Sailor Bear and Park Pictures.