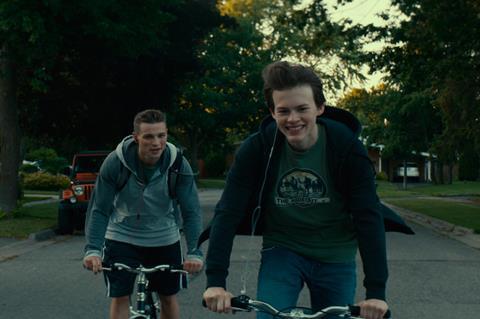 Celluloid Dreams has come on board to handle international territories on the hotly anticipated Canadian coming-of-age drama Giant Little Ones ahead of its world premiere in Toronto next month.
UTA Independent Film Group will be on the ground in Toronto and represents US rights, while Mongrel Media will distribute in Canada.
Giant Little Ones will screen in Special Presentations and centres on Franky Winter (Josh Wiggins) and Ballas Kohl (Darren Mann), best friends since childhood and loved by all until an unexpected incident on Franky's 17th birthday changes everything.
Rounding out the key cast are Taylor Hickson, Kyle MacLachlan, and Maria Bello. Keith Behrman directed and the producer is Allison Black of euclid431 pictures, whose credits include Cannes 2016 Directors' Fortnight selection Mean Dreams .
"We are very pleased to be working with Mongrel Media and UTA on this very special movie," said Celluloid Dreams vice-president Charlotte Mickie. "At Celluloid Dreams we were struck by the freshness of Keith's vision, the exuberance of the tone and the deep humanity of the script. Young people are experiencing a new fluidity in their intimate relationships, as are their parents. Giant Little Ones is about swimming through these uncharted waters with grace."
Black added, "I couldn't be more delighted to be working with the Celluloid Dreams team. Hengameh and Charlotte have such passion and excitement for the film, and Keith and I are thrilled to be moving forward together as we head into our TIFF world premiere."