Snatched director Jonathan Levine will direct.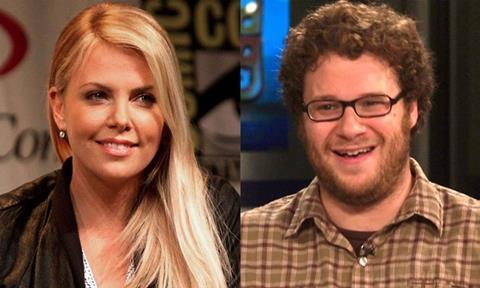 Lionsgate has picked up worldwide rights to the comedy Flarsky starring Charlize Theron and Seth Rogen.
Jonathan Levine, whose credits include the upcoming Snatched starring Amy Schumer and Goldie Hawn, will direct the Point Grey Pictures, Denver And Delilah Films and Good Universe comedy from a screenplay by Dan Sterling.
Flarsky is set to begin production in August and centres on an unemployed journalist who pursues his childhood crush, now one of the most powerful and unattainable women on earth.
Lionsgate brokered the deal with Good Universe on behalf of producers.
Other distribution news:
Lionsgate has set CIA action-adventure American Assassin starring Michael Keaton for September 15. Dylan O'Brien, Taylor Kitsch, Sanaa Lathan and Shiva Negar also star, while Michael Cuesta directs and Lorenzo di Bonaventura and Nick Wechsler produce.
Saban Films and DIRECTV have taken North American rights from Preferred Content to Avva Pictures' recent SXSW premiere Small Town Crime. Saban plans a fourth quarter theatrical release on the film starring John Hawkes, Anthony Anderson, Robert Forster and Octavia Spencer.
Universal will release sci-fi thriller Extinction on January 26, 2018. Mandeville Films, on a roll following the $357.1m global launch of Beauty And The Beast, are producing the tale of a man who must save his family from an otherworldly phenomenon. Michael Peña and Lizzy Caplan from Now You See Me 2 star.
Indican Pictures has picked up worldwide rights to two films following deals in Berlin. Femme fatale thriller Sable will open theatrically in May and stars Ayla Kell, Bojesse Christopher, Octavius Johnson and Nicole Alexandra Shipley. Mystery Jasmine will open in June and stars Jason Tobin, Grace Huang, Byron Mann and Eugenia Yuan. Gary Goldberger and Shaun Hill brokered both deals for Indican.
Freestyle Digital Media has acquired North American rights to Landline ahead of its world premiere in Chicago this week. Matthew Aaron's drama – not to be confused with Gillian Robespierre's recent Sundance comedy of the same name – will debut on VOD on April 4.