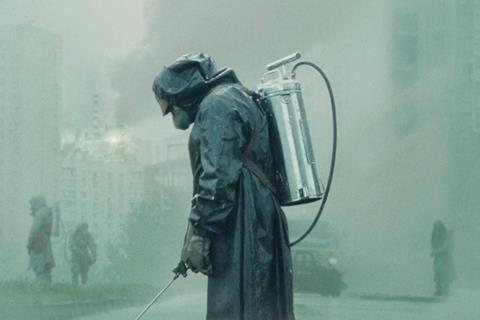 Spain-based costume company Peris Costumes, which worked on hit TV drama Chernobyl, is donating its collection of face masks and other stock to help key workers in the efforts to reduce the spread of Covid-19.
The company is also using its workshops in Madrid and Lisbon to make new protective face masks, robes and helmets, all of which will go to frontline staff in nursing homes, hospitals, police departments, social services and city halls.
"We are living in a nightmare in which reality overcomes fiction," said Peris Costumes CEO Javier Toledo. "Our thoughts go out to the families who have lost a loved one and to the ones who are going through an uncertain situation with their elderly or family members fighting this illness.
"That is why we are certain that we cannot stand by right now and that this is the time to help. As time goes by, needs are greater and they are inexplicably not being met as promptly as they should.
"This is just a drop in the ocean, but it has already helped a lot of people. Everyone at Peris Madrid and Peris Lisbon is playing their part so that this aid becomes a reality. We want our donation to be a humble contribution to this Dante-esque situation on behalf of the film industry, television and theatre as a whole.
"If this confinement has taught us anything it is the need for entertainment and its importance in times like these and especially in the future, even though it may sometimes lack the recognition it deserves."
Odile Dicks-Mireaux was the costume designer on the critically-acclaimed show and received a Primetime Emmy nomination for outstanding period costume design. The UK costume designer most recently worked on Edgar Wright's next feature, Last Night In Soho.
Produced by HBO and Sky UK, Chernobyl tells the harrowing story of the 1986 nuclear disaster, and the extensive clean-up operation which followed.
Peris Costumes' other credits include Ciro Guerra's Waiting For The Barbarians starring Johnny Depp; Roman Polanski's An Officer And A Spy; Pedro Almodóvar's Julieta; and Javier Fesser's Champions, which was Spain's Oscar entry in 2019.
At the time of writing, Spain has the second-highest confirmed number of coronavirus cases with 136,615, and the second-highest number of deaths at 13,314. The number of deaths per day fell for the fourth consecutive day on April 6, raising hopes the virus is beginning to recede in the country.