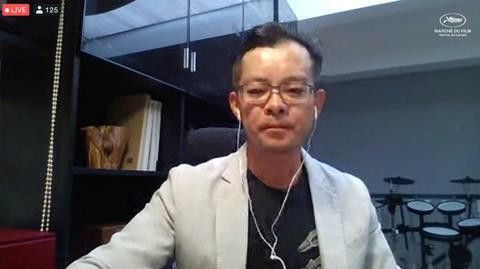 With no reopening in sight for mainland China cinemas, which have been closed since January 23 due to the Covid-19 pandemic, local executives are predicting a significant change in film consumption habits amongst Chinese audiences.
Speaking on a Bridging the Dragon & Marché du Film "China Next" panel, Jerry Ye, chairman of Huaying Tianxia Film Development, said that it was clear that streaming platforms were gaining the upper hand during this extended period of cinema closures. "The theatrical experience will always be powerful, but in future customers are likely to be much more selective about what they watch in cinemas," said Ye, who previously also held senior posts at Wanda Group and Huayi Brothers.
"After the crisis, Chinese audiences will still be interested in high-quality movies with a great story, but for some titles they will prefer to watch it online. For blockbuster movies their first choice will still be to watch it in cinemas."
China's theatrical market appears to be in a state of deadlock, with central and provincial governments unwilling to take the risk of reopening, and producers reluctant to release big titles until audiences have returned.
Not helping matters, Beijing cinemas were ordered to remain closed after a new cluster of Covid-19 infection cases linked to a wholesale food market was discovered on June 12. While Ye observed that it was probably safer to reopen in some Tier 2 and Tier 3 markets, whatever happens in Beijing, China's political capital, influences the rest of the nation.
"In mid-March, the government and industry tested the waters by reopening some cinemas, but it didn't work because we didn't have movies to release," Ye explained. "We need to reopen with some big blockbusters."
China already has a large backlog of local movies waiting for release, including this year's postponed Chinese New Year productions, while major US studio titles including Mulan and Christopher Nolan's Tenet will also be looking for slots over the summer. However, Ye flagged the possibility that cinemas may not reopen until the next major holiday period, China's National Day holidays, in early October. "If we also miss that date, then I'm not sure how the Chinese film industry can deal with the situation," Ye said.
Jeffrey Chan, executive vice president of Bona Film Group, explained that it was a slightly more positive picture in Taiwan and Hong Kong, where cinemas are currently open, but that box office is still only at 20-30% of what it used to be. "In Taiwan, this is largely to do with the product available because the studios have not been distributing since March."
Currently based in Taipei City, Chan distributes films through his own outfit, A Really Good Film Company, in both Taiwan, where cinemas never closed during the pandemic, and in Hong Kong, where they closed for six weeks until early May.
"Most cinemas in Taiwan wanted to shut down at some point [because they were losing money by staying open] but had commitments to their landlords so can't just shut down unilaterally," Chan explained. "They tried to renegotiate terms with their landlords, but most of the chains kept open and only individual cinemas found a reason to shut down."
Chan added that around 10-12 smaller local and foreign independent films are being released in Taiwan each weekend, but the market is no less competitive than when US studios titles are being released, as cinemas are also competing with activities that are regarded as 'safer', such as online video games and eating dinner with friends. One of the highest-grossing films over the past four weeks has been Bernardo Bertolucci classic The Last Emperor, which topped the box office for a few weeks.
Also speaking on the panel from Paris was StudioCanal CEO Anna Marsh, who explained how France's cinemas are reopening this week, after being closed since mid-March, with a combination of classics and new French titles. "It's definitely the local titles that are the priority right now, and it's likely that French-language comedies and titles skewed more towards younger audiences will work best," Marsh said. "For older audiences, we don't yet know if they will be present and will feel safe enough to return."