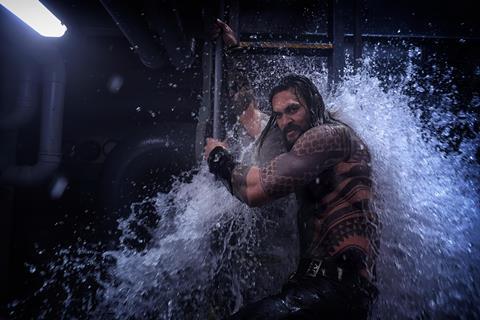 Led by the strong performance of Aquaman, the Chinese box office surged 36% week-on-week betwenn Dec 3-9, bringing it closer to achieving the new annual milestone of RMB60bn ($8.7bn) by year-end.
Warner Bros' Aquaman stormed the Chinese box office with $92.3m from its three-day opening weekend, accounting for almost 70% of the week's total ticket sales. Its opening debut has out-grossed the lifetime total of both 2016's Batman v Superman: Dawn Of Justice and 2017's Wonder Woman. It is tracking to overtake 2017's Justice League and smash a new record for DC superhero films in China.
Its Friday opening day alone also broke a new record for DC, while its Saturday takings became the biggest single day in December ever, surpassing 2015's Moijin – The Lost Legend.
Aquaman director James Wan's last film released in China was 2015's Furious 7 which is the second biggest international film released in China of all time.
Surprise local hit A Cool Fish held steady in second with $17.3m for $106.3m after 24 days. Rao Xiaozhi's low budget dark comedy is now the 20th biggest film overall of 2018.
Sony's Venom held steady in third with $6.1m for $265.1m after 31 days, making it the second biggest superhero film in China, after Avengers 3. After one month on release, it has now extended its Chinese run and China is its biggest international market by far.
Disney animation Ralph Breaks The Internet followed with $4.2m last week for a cume to date of $38m after 17 days, surpassing the lifetime total of Finding Dory, while UK comedy Johnny English Strikes Again. starring Rowan Atkinson, grossed $3m between Dec 3-9 for a total to date of $24m also after 17 days.
Einstein And Einstein came in sixth with $2.9m from its first three days. The local coming-of-age drama about a 13-year-old girl in modern China had its world premiere at the Busan International Film Festival five years ago. The director Cao Baoping has since had two other films, 2015's The Dead End and 2016's Cock And Bull, released in China.
The rest of the chart is sea disaster film Adrift on $1.1m from its three first days; Indian superstar Amitabh Bachchan's 102 Not Out on $1m for $4.2m after 10 days; Fantastic Beasts: The Crimes Of Grindelwald on $1m for $56.8m after 24 days; and all Asian-cast Hollywood blockbuster Crazy Rich Asians on $0.5m for $1.6m after 10 days.
Aquaman will face off new releases such as My Neighbour Totoro, The Grinch and Padman, which are all due out on Dec 14.