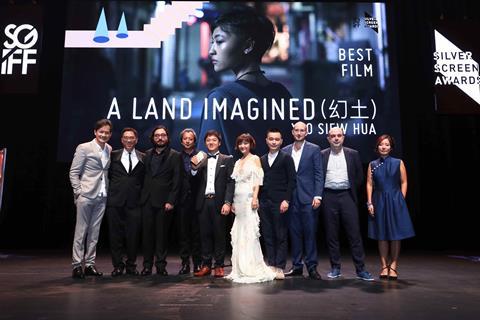 Yeo Siew Hua's A Land Imagined was declared best film at the 29th Singapore International Film Festival (SGIFF), a historic first win for a Singapore film since the launch of the Silver Screen Awards in 1991.
Beating seven other Asian films such as Bi Gan's Long Day's Journey Into Night and Emir Baigazin's The River, the Singapore-set drama, which revolves around the disappearance of a Chinese migrant construction worker at a land reclamation site, has been travelling and picking up awards since it won the Golden Leopard at Locarno before finally returning home.
It was a unanimous decision for the five-member jury panel headed by Hong Kong director Stanley Kwan. They described Yeo's second feature as "combining a clear and original vision, strong storytelling and technical achievement in addressing an increasingly important issue not only to Singapore but to the world".
The best director prize went to Pham Thu Hang for The Future Cries Beneath Our Soils, a documentary set in Vietnam's Quang Tri province, about the dark shadow of war and death. Indian actor Manoranjoan Das was named best actor for Bulbul Can Sing, while Behrouz Nooranipour's first narrative feature Dayan received a special mention.
The Silver Screen Awards red-carpet ceremony was held on Saturday night (Dec 8) at the historic Capitol Theatre. A total of 14 awards were given out, including best Southeast Asian short film for Cambodian filmmaker Danech San's first film A Million Years. The Southeast Asian short film competition was determined by a separate three-member jury panel headed by Berlinale's Maike Mia Hohne.
The Silver Screen Awards was a pioneer in international competition with a specific Asian film category when it was established in 1991. "The Silver Screen Awards will continue to cement its position as an inspiring space for the industry to explore and recognise a stellar body of cinematic works emerging from across the region; and at the same time continue on our commitment to nurture and champion next-generation filmmaking talents, celebrating their bold artistry and storytelling", said SGIFF executive director Yuni Hadi.
Honouring outstanding contributions in Asian cinema, SGIFF presented the honorary award to acclaimed Cambodian filmmaker Rithy Panh in recognition of both his documentary and fiction works as well as his dedication towards preserving Cambodia's history through his cinematic and social projects over the past three decades. Panh was on hand to receive the award from SGIFF new chairperson Sebastian Tan and programme director Pimpaka Towira.
With more than 40 film and television roles from both the commercial and independent arenas, Chinese actress Joan Chen received The Cinema Legend Award for her dedication to the entertainment industry. She has also developed a career as a director, producer and writer, with her latest directing effort, English, scheduled for release in 2019. Hong Kong producer Terence Chang and celebrity photographer Russel Wong presented the award to Chen.
Chinese actress Luna Kwok took the Inspiring Woman In Film Award, which was presented by SGIFF in partnership with Swarovski to honour outstanding women in film. As the lead actress of A Land Imagined, Kwok earlier won the Boccalino d'Oro Prize for best actress, awarded by the Independent Swiss Critics at Locarno.
The 12-day festival wrapped on Sunday (Dec 9) with the encore screenings of the best film winner, A Land Imagined, and Shinichiro Ueda's One Cut Of The Dead, winner of the audience choice award.
SGIFF is the longest running international film festival in South East Asia. It is an event of the annual Singapore Media Festival (SMF) hosted by Info-communications Media Development Authority of Singapore (IMDA).
29th SGIFF FULL WINNERS LIST:
Asian feature film category:
Best film: A Land Imagined
Best director: The Future Cries Beneath Our Soil, dir: Pham Thu Hang
Best performance: Manoranjoan Das, Bulbul Can Sing
Special mention: Dayan, dir: Behrouz Nooranipour
Southeast Asian short film category:
Best Southeast Asian short film: A Million Years, dir: Danech San
Best Singapore short film: Luzon, dir Chiang Wei Liang
Special Mention: With History In A Room Filled With People With Funny Names, dir: Korakrit Arunanondchai
Best director: Kado, dir: Aditya Ahmad
Youth jury prize: Kado, dir: Aditya Ahmad
Other awards:
Honorary award: Rithy Panh
Cinema legend award: Joan Chen
Inspiring woman in film award: Luna Kwok
The most promising project of the Southeast Asian film lab: Never Been Kissed, dir: Dao Thi Minh Trang
Youth critic award: Ryan Lim, Nanyang Technological University