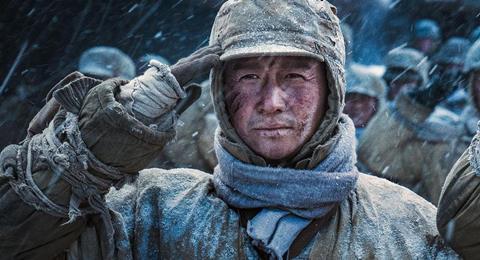 Patriotic blockbuster The Battle At Lake Changjin grossed a further $108.5m over the weekend (October 8-10), according to figures from Artisan Gateway, to reach a cumulative total of $633.2m, making it the fourth highest-grossing film worldwide in 2021. The film opened on September 30 to coincide with China's National Day holidays, which ended on Thursday (October 7).
According to Box Office Mojo's worldwide chart, the film has sailed past Shang-Chi And The Legend Of The Ten Rings, currently on $401.6m without a China release, and Godzilla vs Kong on $467.9m. The top three films so far this year are Chinese melodrama Hi, Mom on $822m, Universal's F9: The Fast Saga on $716.6m and Chinese comedy Detective Chinatown 3 on $686.3m.
Online ticketing platform Maoyan forecasts that The Battle At Lake Changjin will end up on $828.6m (RMB5.34bn), which would make it the highest-grossing film globally in 2021. Produced by Bona Film Group, the film is co-directed by Chen Kaige, Tsui Hark and Dante Lam and tells the story of a real-life battle during the Korean War, known in China as the 'War to Resist US Aggression and Aid Korea'.
IMAX has scored $30.4m in box office from the film's release, including $4.6m this past weekend, which makes it the company's fourth highest grossing local-language title of all time.
China Film Co's omnibus My Country, My Parents came in second over the weekend, grossing $19.6m for a cume of $182.2m. The film, which has segments directed by Zhang Ziyi, Xu Zheng, Wu Jing and Shen Teng, is trailing some way behind the first two installments in this patriotic anthology series – My People, My Country, which grossed $492m over the National Day holidays in 2019, and My People, My Homeland, which took $437m over the same period in 2020.
However, The Battle At Lake Changjin and My Country, My Parents between them are still accounting for more than 80% of screening sessions in China, leaving little breathing space for anything else. Enlight Media's Water Boys, which opened on October 1, came in third over the weekend with just $1.5m for a cume of $7.2m. Local animation Dear Tutu: Operation T-Rex took $700,000 for a cume of $7.1m, while another children's film, Yu Fei's live-action Little Canned Men, grossed $600,000 for a cume of $7.6m.
Combined box office for the weekend stood at $133m, according to Artisan Gateway figures. China's box office for the year so far has reached $6.18bn, which is a decrease of 24.3% on the same point in 2019, before the pandemic impacted the market.