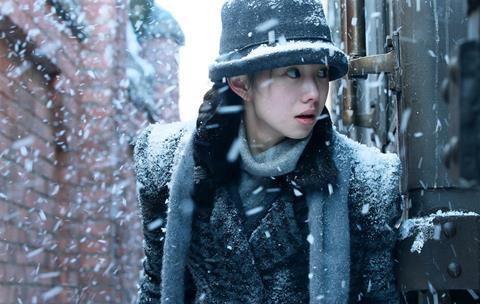 Zhang Yimou's spy thriller Cliff Walkers outstripped romantic comedy My Love at the China box office during the May Day holidays, grossing $24.3m over the weekend (May 7-9), propelled by strong reviews and word-of-mouth.
The film, about four Communist agents who have been trained in the Soviet Union to carry out a secret operation in the city of Harbin, has now reached a cumulative total of $117.5m, according to figures from theatrical consultancy Artisan Gateway.
Initially boosted by its two star leads, My Love had opened in pole position in the first weekend of the holiday (April 30-May 2), but slipped to third place with $8.9m for a cume of $113.3m this past weekend (May 7-9) when negative reviews and low ratings started to bite. The film currently has a 7.9 rating on Chinese ticketing platform Maoyan compared to a 9.1 rating for Cliff Walkers.
Directed by Han Tian, the remake of hit South Korean romantic drama On Your Wedding Day stars Taiwanese actor Greg Hsu and actress Zhang Ruonan (The End Of Endless Love).
iQiyi Pictures' anti-corruption crime thriller Break Through The Darkness came in second over the weekend with $13.8m for a cume of $34.6m. Directed by Lu Yulai, the film stars Jiang Wu, Zhang Songwen and Jin Shijia.
Wong Jing's The Unbeatable (aka Once Upon A Time In Hong Kong), also a crime thriller with an anti-corruption theme, came in fourth with $5.2m for $31.7m, followed by Leste Chen's Home Sweet Home, starring Aaron Kwok, with $2m for $32.1m.
The China Film Administration announced last week that box office during the May Day holidays (May 1-5) had reached $258m (RMB1.67bn) as of May 6 noon, which was described as a record for the holiday but lower than industry expectations.
Total box office for the May 7-9 weekend was a healthy $58.2m, according to Artisan Gateway. However, box office for the year to date at $3.5bn is down 9.8% compared to this point in 2019, when the market was running at full speed and before the pandemic shuttered cinemas for six months in the first half of 2020.
Factors for the decline include the lack of availability of Hollywood blockbusters due to the pandemic – although Godzilla vs Kong has grossed an encouraging $190m (RMB1.22bn) – and the fact that too many local films are being released during key holiday periods so are cannibalising each other's box office results. Around a dozen local productions were released over the May Day holidays.
Guy Ritchie's Wrath Of Man, starring Jason Statham, was released today (May 10) and had grossed $3m (RMB18.8m) by 10pm (Beijing time), coming in second behind Cliff Walkers in Maoyan's real-time chart. Other upcoming Hollywood releases include the re-release of The Lord Of The Rings: The Return Of The King on May 14 and F9 on May 21.