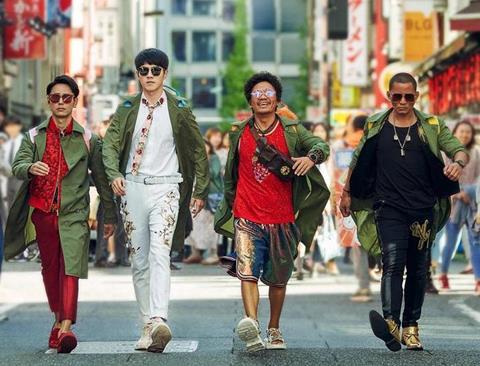 Wanda Pictures' Detective Chinatown 3, which is scheduled to open on February 12 in time for the Chinese New Year holidays, had racked up advance ticket sales of $46m as of Sunday morning (February 7), according to Chinese state media.
Directed by Chen Sicheng, the film was originally scheduled to open over Chinese New Year 2020, but was pulled when cinemas were closed due to the Covid-19 outbreak. Released at the end of 2015, the first film in the series, Detective Chinatown, grossed $122m, while the second pulled in $503m in 2018.
The third installment's pre-sales made up around two thirds of the market's total advance bookings for the holiday season (February 11-17), which typically accounts for around 10% of China's annual box office. Jia Ling's comedy Hi, Mom ranked second in pre-sales with $9.3m (RMB60m). Advance ticket sales for the Chinese New Year movies opened on January 29.
Other films scheduled to open this weekend include Lu Yang's thriller A Writer's Odyssey (previously known as Assassin In Red), Li Weiran's fantasy The Yin-Yang Master, Rao Xiaozhi's comedy drama Endgame, starring Andy Lau, and animated features Boonie Bears: The Wild Life and New Gods: Nezha Reborn, from the team behind White Snake. Boonie Bears, part of a long-running hit franchise, has also been postponed from release over Chinese New Year 2020.
Although China's box office is in recovery mode, takings for this year's Chinese New Year holiday may not beat the same period in previous years, as cinemas are still operating at 75% capacity, and even lower in some areas with a flare-up in Covid-19 infection cases. Beijing cinema operators were told last week that they would have to operate at 50% over the holiday season from February 11-17.
China also been discouraging travel over the holidays (usually a time when people working in the big cities visit their home towns to celebrate with family) by introducing mass testing, isolated lockdowns and two-week quarantines for people returning home.
As expected in the period before Chinese New Year, box office for the weekend February 5-7 was extremely quiet with no big openers and only a slight reshuffle in the top-grossing films. Shock Wave 2, which opened on Christmas Eve, regained the top spot with $4.8m over the three-day weekend, for a cumulative total of $196.3m, according to figures from theatrical consultancy Artisan Gateway.
A Little Red Flower came in second with $4.5m for a cume of $216m, followed by Big Red Envelope with $4.3m for a total of of $32.6m. Local animated feature Wish Dragon, co-produced by Base Media, Tencent and Sony Animation, came in fourth with $2.3m for a cume of $23.4, followed by Warm Hug with $2.1m for a total of $130.9m.
Disney/Pixar's Soul has so far grossed $56.4m (RMB364.8m), making it Pixar's second biggest release in the territory behind Coco, which grossed $190m (RMB1.23bn) in 2017.
Revenues for the weekend as a whole were just $22.9m, compared to $32.8m the previous weekend, according to Artisan Gateway. Box office for the year to date has reached $344.6m, an increase of 62.3% on the same period the previous year, when cinemas were mostly shuttered by January 23.