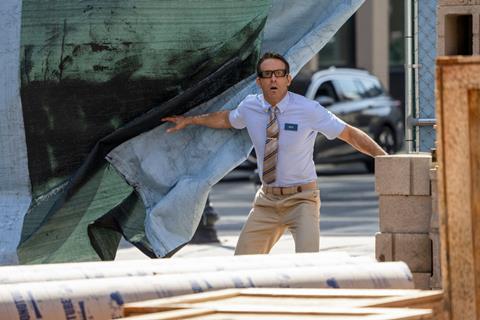 Disney/20th Century Studios' Free Guy held on to the top spot at the China box office over the three-day weekend (September 3-5), grossing $18.3m for a cumulative total of $56.6m, while Paramount Pictures' The Tomorrow War opened in second with $8.1m.
The two films mark a long-awaited return for US titles at the China box office, following an unofficial blackout of around three months, during the celebrations for the 100th anniversary of the founding of the Chinese Communist Party. However, Disney's Shang-Chi And The Legend Of The Ten Rings, featuring Marvel's first Asian super-hero and currently a big hit at the US box office, has still not been dated in China.
The Tomorrow War, starring Chris Pratt, premiered on Amazon Prime in most territories outside China, where the global streamers are not allowed to operate. The film has an 8.6 rating on the Maoyan ticketing platform and a rating of 6 on the more film buff-oriented Douban.
Hong Kong-China co-production Raging Fire, starring Donnie Yen and Nicolas Tse, came in third with a further $6.2m, for an impressive cume of $175.5m, according to figures from theatrical consultancy Artisan Gateway. That makes it the eighth highest grossing film this year so far in China.
Disney's animated feature Luca came in fourth with $1.3 for a cume of $12.8m, followed by Hong Kong sports drama Zero To Hero, which opened on September 4 and grossed $1.3m in two days. Directed by Jimmy Wan, the film tells the story of Hong Kong's first Paralympic athlete to win a gold medal.