Hat-trick for Kong: Skull Island; more tickets sold during Qing Ming holidays.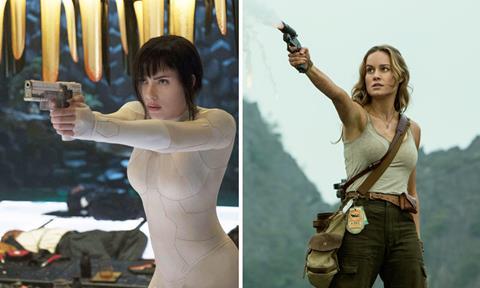 Thanks to the Qing Ming holidays, last week's Chinese box office (Apr 3-9) surged by approximately 14% week-on-week. The holidays, which fell on Monday and Tuesday, helped propel the box office with its two-day box office better than Saturday and Sunday combined.
Kong: Skull Island performed a rare hat-trick at the top of the box office, taking in $37.17m. With a 17-day total of $160.85m, it has overtaken The Hobbit: The Battle Of Five Enemies and set a new record for a Warner Bros film in China. It is also on course to soon edge out xXx: Return Of Xander Cage to become the top grossing non-Chinese film this year.
The Chinese adaptation of Japanese crime thriller The Devotion of Suspect X maintained strongly in second place with $29.34m for $52.66m after 10 days. Actor-turned-director Alec Su's second film is now the highest grossing Chinese film since Chinese New Year.
Ghost In The Shell, one of two new films that entered the weekly charts, ruled the Friday-Sunday weekend with $21.27m, but it failed to dethrone Kong: Skull Island from the overall top spot. Starring Scarlett Johansson, Paramount's live-action adaptation of the popular anime, still earned more than its North American opening weekend.
Chinese action crime thriller Extraordinary Mission dropped one place to the fourth with $11.74m for $20.41m after 10 days, while actress-turned-director Xu Jinglei's local thriller The Missing took $6.37m for $12.86m after 10 days.
Disney's Beauty And The Beast followed in sixth with $4.64m for $87.42m after 24 days; preceding French-Canadian animation Snowtime! on $$4.01m for $5.70m after nine days; local comedy You Wan Mei Wan on $2.84m for $5.03m after nine days; and family film A Dog's Purpose on $1.11m after an extended 38-day total of $87.79m.
Mad World opened with $0.55m from its three-day opening weekend. The low budget Hong Kong drama walked home with three major prizes from last night's Hong Kong Film Awards, including best new director for Wong Chun, best supporting actor for Eric Tsang and best supporting actress for Elaine Jin.
The Fate Of The Furious is scheduled for Apr 14, along with A Nail Clippers Romance and Love Is Frozen. The re-release of A Chinese Odyssey Part 2: Cinderella is on April 13.