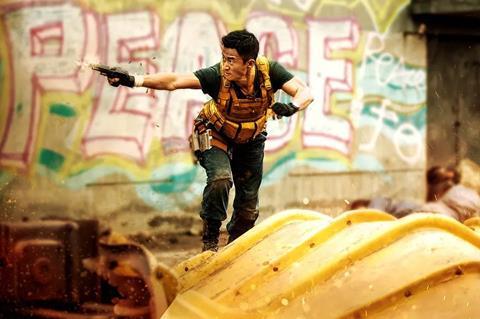 China's box office hit $8.6bn (RMB55.9bn) in 2017, an increase of $2bn over the previous year, according to figures from the State Administration of Press, Publication, Radio, Film and Television (SAPPRFT).
However, it's difficult to make year-on-year comparisons as the Chinese yuan has appreciated against the US dollar and the Chinese authorities have changed the way they calculate box office revenues over the past year.
In US dollar terms, the figure represents a 30% increase against the $6.6bn (RMB45.7bn) in box office revenues collected in 2016. But in Chinese currency terms, the year-on-year growth stands at around 22%. SAPPRFT reported an increase of just 13.45%, which appears to reflect the growth rate once the fees paid by consumers to online ticketing platforms have been removed.
Chinese authorities started to include online ticketing fees in box office figures from the beginning of 2017, after an underwhelming 2016, during which box office in Chinese currency terms grew by just 3.7%.
But whichever way the percentage increase is calculated, the figures represent a welcome return to growth for the China market, following the inevitable correction of 2016, caused by a weak line-up of films and a clampdown on box office fraud and online discounts. Prior to 2016, China's box office had been growing at a turbo-charged 30% plus every year for almost a decade.
And while the huge success of local action film Wolf Warrior 2 may have skewed the results, it appears that both foreign and local films benefited from last year's growth. Chinese productions grossed a combined RMB30.1bn, accounting for a 54% market share, compared to RMB26.7bn in 2016 when they had a 58% share of the market.
Wolf Warrior 2 was the top-grossing film overall, taking $873m (RMB5.68bn) based on year-end exchange rates. The top ten included four other domestic movies – comedy Never Say Die, Jackie Chan-starring action title Kung Fu Yoga, Tsui Hark's Journey To The West: The Demons Strike Back and Feng Xiaogang's period drama Youth, which opened on December 15 and is still on release.
Foreign films grossed RMB25.8bn for a 46% market share, compared to RMB19bn and a 42% share in 2016. The Fate Of The Furious was the top-grossing foreign film, coming in second overall with around $393m. Other foreign films in the top ten included Transformers: The Last Knight, Indian blockbuster Dangal, Pirates Of The Caribbean: Dead Men Tell No Tales and Kong: Skull Island.
SAPPRFT also reported that ticket sales increased by 18% from 1.37 billion in 2016 to 1.62 billion in 2017. The higher growth rate for admissions relative to box office suggests that the average ticket price is declining due to online ticketing discounts and the increase of cinema screens in less affluent third and fourth tier cities.
The number of cinema screens had grown by 23% to 50,776 at the end of 2017. In comparison, the US market, with around one quarter of China's population, currently has around 40,000 screens.
Meanwhile, the overseas box office revenue of Chinese films, including Sino-foreign co-productions, grew by 11% to $653m (RMB4.25bn).