Box office may be down in the US and much of western Europe, but UK cinemas are powering forwards, buoyed by the local appeal of key titles.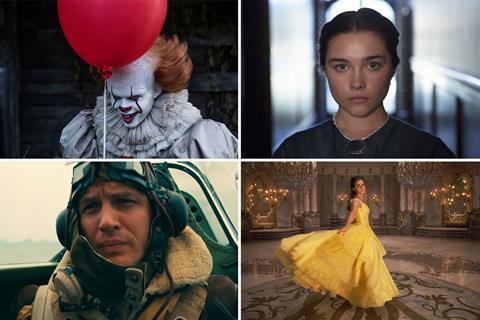 While Hollywood studios may hanker for those innocent days of the summer when disastrous US box office was the big story of the film industry, 2017's downturn in admissions may resurface when the year's final numbers are crunched.
But, once again, the UK is bucking the trend. Box office for the year to the end of November is showing a 4% rise versus the same period in 2016, and it seems likely that this number will improve by year's end, given the boost of current hit Star Wars: The Last Jedi.
Tom Linay, head of film at cinema advertising market leader DCM, forecasts a UK annual admissions total that is up between 1% and 2% compared with 2016, which was considered a strong year for cinemagoing. "I think that's got to be a good result," is his verdict on that predicted outcome.
In 2016, the top grossing film was Rogue One: A Star Wars Story, with £66m ($88.5m). That number is already beaten this year by Beauty And The Beast, with £72.4m ($96.7m), and few would bet against Star Wars: The Last Jedi likewise overtaking Rogue One. This year, Dunkirk also massively over-performed on expectations, especially given its unusual structure, spare dialogue and a storytelling mode that requires significant audience concentration.
"With Dunkirk, it's a Christopher Nolan film, so you're going to get something spectacular, but that doesn't mean £56m ($75.6m)," says Linay. "It's his biggest film. Even when people saw Dunkirk at early exhibitor screenings, they were saying, it's really great but it also might be a bit challenging for audiences. People were still not 100% confident about it."
Crucial to the film's success was its appeal to older cinemagoers, with 46% of the audience aged 45 or over. "If you can get those over-45-year-olds into the cinema, you're going to do very well," says Linay. Dunkirk's £7.7m ($10.3m) gross on Imax screens (13.6% of the film's total box office) was also a crucial factor. The title's success helped push Warner Bros to number one in market share for the year to the end of November, up from fourth place in 2016 (see below).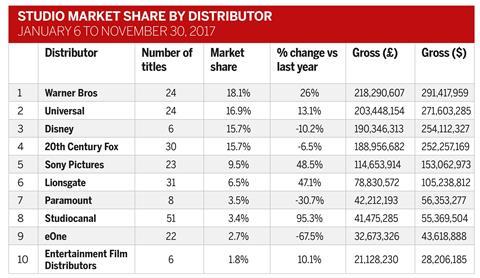 Linay points to Stephen King adaptation It (£32.3m [$43.2m]), Spider-Man: Homecoming (£30.5m [$40.7m]) and animations Sing and The Boss Baby as examples of films that over-achieved relative to his expectations at the start of the year. Many in the industry assumed that The Lego Batman Movie would beat both Sing and The Boss Baby but, explains Linay, "Our research shows that animated films play more strongly with a female audience, so when you've got an animated film like The Lego Batman Movie which skews more male, they don't tend to do as well." Linay cites Film Monitor data saying that The Boss Baby reached a 58% female audience, compared to only 45% for The Lego Batman Movie.
Hits and misses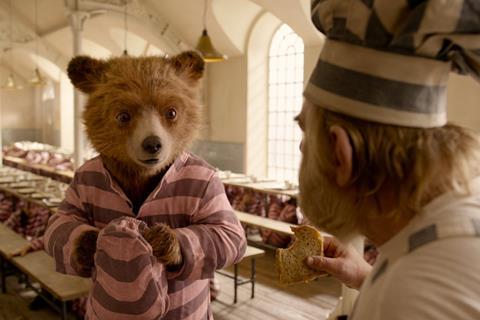 Top of the disappointment column for Linay would be The Snowman (£3.3m [$4.4m]), from Universal/Working Title. "Consider the pedigree of the people involved. It was originally Martin Scorsese's project and he's an executive producer, Tomas Alfredson has proved himself a legitimately very good director, and the cast was great. It was in that early October slot, where in previous years we've had high-quality literary adaptations Gone Girl and The Girl On The Train— and while we didn't expect it to be up to that level, Jo Nesbo is a popular author. I don't know what went wrong there."
King Arthur: Legend Of The Sword (£4.9m [$6.5m]) was another poor performer relative to budget, but Linay cautions: "I don't think it was in any way a slam dunk. Swashbuckling epics have struggled a bit recently, and Guy Ritchie can be hit-and-miss. It seems to work if he has a really charming leading man like Robert Downey Jr, but I'm not sure that Charlie Hunnam is in the same category."
The comedy genre disappointed in 2017, outside of family films such as Paddington 2 and animations. Daddy's Home 2 is the only title to reach £10m ($13m), although Pitch Perfect 3, released on December 20, could be another. "We used to get one comedy a year that really caught the public's imagination, The Hangover, Bridesmaids, 21 Jump Street, Ted, Bad Neighbours," says Linay. "We haven't had that this year.
"When I'm trying to forecast films, comedy and horror are the two most difficult ones to predict. Horror, if it's not scary, people aren't going to go see it. Comedy, you can put the funniest people in the world in it, and if the comedy doesn't work, people don't go see it. A year ago, we were bemoaning the state of horror, and now suddenly horror's had an amazing year with Split, Get Out and Annabelle: Creation. This year for comedy was like last year for horror."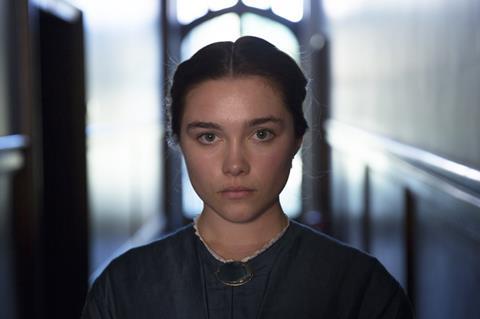 The indie scene
The fortunes of the UK's independent cinemas and boutique chains are tied to the titles released in any given year, and in 2017 a range of films allied to the sector's brand values have delivered. "It's been a good year for Curzon Cinemas," says the exhibitor's director of programme Damian Spandley. For the year to December 12, box office for the chain was up 14.5% on the same period in 2016. New cinema Curzon Aldgate contributed to that growth, but Spandley says organic growth is nevertheless a healthy 10%.
"The Revenant, which was the top earner in our cinemas in 2016, would only have ranked fourth for us this year," reveals Spandley, "below La La Land, Dunkirk and Murder On The Orient Express." Curzon also did exceptionally well with The Death Of Stalin, in fourth place for the year, Moonlight (fifth), Jackie (sixth) and top foreign-language title The Handmaiden (eighth). Awards hopeful Call Me By Your Name is still playing strongly at Curzon sites, and should end up ninth or tenth for the year.
The crop of awards titles released at the start of 2017 provided a particular boon to the sector, and many of them over-indexed in the UK relative to the US, by the accepted industry rule of thumb that says the UK total (in pounds sterling) should be one tenth of the US number (in dollars). Lionsgate's La La Land (£30.4m [$40.6m]) over-indexed. Perhaps more surprisingly, so did Altitude's Moonlight (£4.3m [$5.8m]) — challenging the view that films with majority African-American casts will struggle in the UK. The success of these films saw Lionsgate move up from eighth to sixth place in market share, with a 47% rise in box office from 2016; Altitude moved up from 20th place to 11th, with a 287% box-office jump.
Spandley points to the success of low-budget UK films Lady Macbeth and God's Own Country as highly invigorating for the sector, with both exceeding $1m (£800,000). "Lady Macbeth has a debut director, no known cast — Florence Pugh had only been in The Falling— and pretty tough subject matter, and yet through a combination of the BFI Audience Fund support, goodwill to support UK talent and a confident distributor in Altitude, they conjured up one of the great indie successes of the year."
Lady Macbeth reached 104 cinemas in the first week of release, and the ambitious rollout was later matched by Sony's Call Me By Your Name (111 venues) and Curzon Artificial Eye's The Killing Of A Sacred Deer (100). "Arthouse specialist releases are going out on a print number in week one that a few years ago we would have found quite shocking," says Spandley. "It's partly to do with the rising competition and expense in acquiring good films, so distributors are being more ambitious in order to make a return. And that also means putting on a big show in theatrical in order to attract pay TV and SVoD opportunities."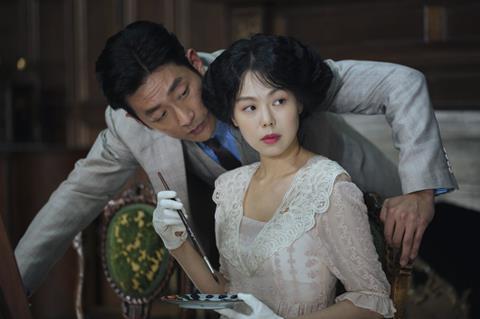 International films
After 2015 produced no non-Bollywood foreign-language film cracking £1m ($1.3m) in the UK, the arthouse sector was relieved when 2016 produced one with Pedro Almodovar's Julieta. The 2017 release calendar did not seem to provide a similar opportunity, so many were pleasantly surprised when Park Chan-wook's The Handmaiden not only passed £1m but also beat Julieta with a £1.35m ($1.8m) gross. Elle and Toni Erdmann, the year's second- and third-biggest foreign-language hits — with £863,000 ($1.2m) and £592,000 ($794,000) respectively — likewise both grossed more than the equivalent titles from the 2016 chart, Victoria and Son Of Saul.
In recent years, all the top foreign-language films have been Bollywood titles – in 2016, for example, Dangal, Sultan and Ae Dil Hai Mushkil all beat Julieta. But in 2017, no Bollywood title matched The Handmaiden; top performer was Raees, with £1.33m ($1.78m). Taking up the slack was a surge in Polish-language films, targeting the large number of Polish people now living in the UK.
Distributor Phoenix achieved the biggest ever gross for a Polish film with Botoks (£1.06m [$1.4m]) and also achieved sturdy success with Letters To Santa 3 (£537,000 [$720,000]). Like Bollywood films, these titles reach their audience via multiplex cinemas and rarely touch UK arthouses. Mainstream exhibitors — and most of all Phoenix — will be hoping for a soft Brexit.
Top 50 films in UK this year so far
Jan 6 - Dec 10