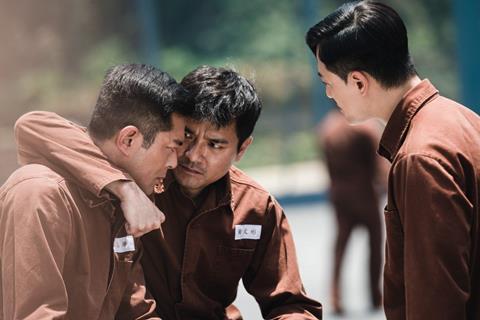 Hong Kong crime thriller P Storm fought off DC's latest superhero film Shazam! for the top spot over the long weekend created by the Qingming (tomb-sweeping) holiday on April 5.
As it is not always a tradition to have a Friday opening in China, several new titles received a staggered release to take advantage of the Qingming holiday, with India's Andhadhun opening on April 3, P Storm and Lou Ye's The Shadow Play on April 4 and Shazam! on April 5.
Thanks largely to the Qingming weekend, the first week of April (April 1-7) enjoyed a significant growth in the Chinese box office by 69% week-on-week.
P Storm easily topped the weekly chart with $50.3m from its first four days. The fourth installment of the Storm franchise reunites Hong Kong director David Lam with veteran producer Raymond Wong.
From the first S Storm launched in 2014 to L Storm and Z Storm, the franchise has gained a growing fan base with each of the subsequent film performing better than the previous one. Although each film bears an unrelated story line, A-list star Louis Koo always returns as an anti-corruption officer and this time goes undercover as a prisoner in the new film.
Warner Bros/DC Entertainment's latest superhero film Shazam!, which opened top in many international markets, ranked second in China behind P Storm, grossing $29.3m from its first three days. The daily drop in ticket sales is significant, down by 64% on Sunday from its Friday opening day.
Bollywood title Andhadhun opened in third place, earning $13.2m from its first five days and already making it the eighth biggest Indian film of all time in China. The black comedy is about a piano player who gets entangled in a murder.
Chinese title Song Of Youth was in fourth place behind the three new releases but the nostalgic drama still pulled in $12m for $43.4m to date despite losing much of its screens. Disney's live-action Dumbo took $7.6m for $18m on its second week on release.
Renowned Chinese arthouse director Lou Ye's The Shadow Play was finally released following rumours it would be pulled from the cinemas just days before its opening. It took $7.3m over its first four days to become his highest-grossing film so far, surpassing the 17-day total of Wang Xiaoshuai's So Long, My Son.
The Shadow Play (aka The Hell Lover) which deals with the issue of corporate corruption, premiered at last year's Taipei Golden Horse Film Festival before making its international premiere at Berlin's Panorama this year. It was abruptly withdrawn from the Hong Kong International Film Festival in March. The version playing in China is reportedly a few minutes shorter than the first Golden Horse version.
Rounding out the weekly top 10 are The Invisible Guest director's latest Spanish thriller Mirage on $5.2m for $14.7m to date; Taiwanese tear-jerker More Than Blue on $4.2m for a cume of $134.7m; Disney/Marvel's Captain Marvel on $1.9m and $147.5m in total and Bohemian Rhapsody which grossed $1.8m this week to take its cume to $12.9m.